Each day common stocks go higher and higher–where it stops no one knows–really NO ONE.
I can find all sorts of fundamental data that would show that the never ending climb higher in equities is silly–but really who cares about fundamental data? We all know that we have a new type of investor in the market–they are young and wealthy–they think totally different.
For years one believes they have cracked the code to earning a nice 6-7% annual return–but the rules change and I am back to being as dumb as I was 25 years ago. If I was really smart I would be up 25% this year instead of hoping I can reach 5% If I was really smart I would hold nothing but speculative equities that have no earnings, but they have sexy names. Oh well not to be–I feel good about staying the course of working to get that 5% (or maybe 6-7%) year after year through conservative investing.
In the Monday Morning Kickoff this week I wrote "I wouldn't bet on a stock market tumble now". In spite of the silliness in stocks 2 key indicators point to higher prices.
I have taken to watching the Fed Balance Sheet as well as the Personal Savings Rate (let's call it PSR).
The Fed Balance Sheet is going higher and higher–now at record levels. While the balance sheet took a dip in June it is now rising steadily as the FED buys all the excess assets that they can sop up. Now whether I agree or not with the FED policy it matters not–as long as the assets are moving higher they are manipulating markets to where they want them–interest rates and thus equities.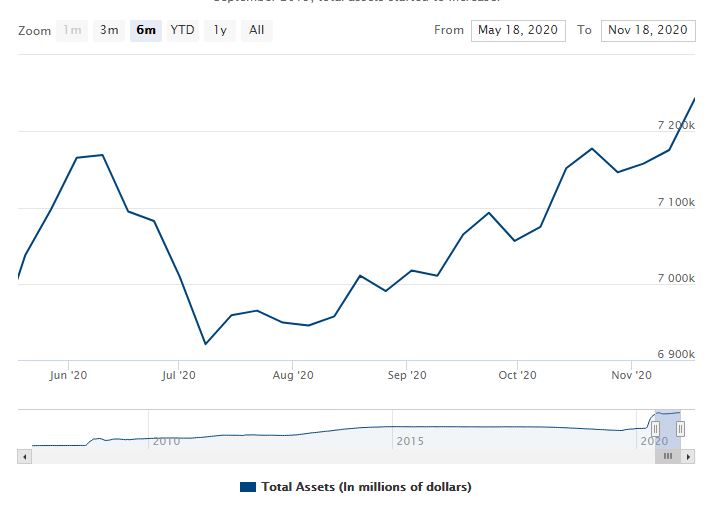 Now I being to look at the Personal Savings Rate–the definition being personal income less outlays for expenses and taxes.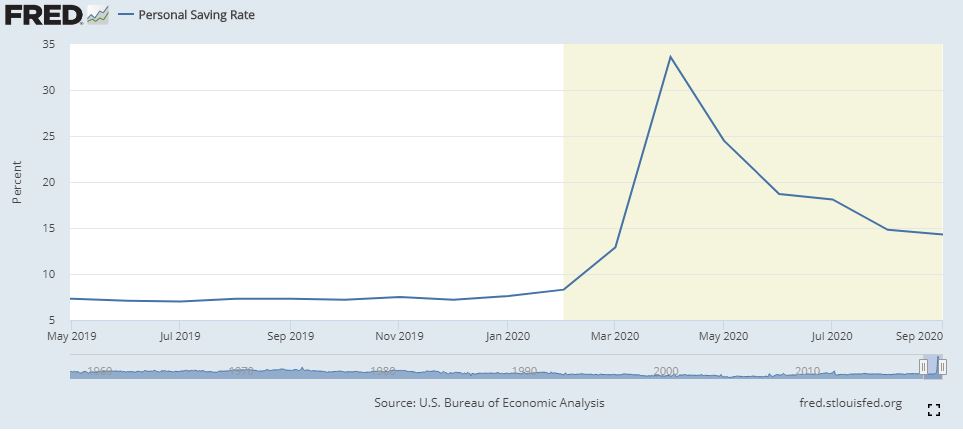 You can see that the normalized level on this chart is around 7%, but in March it started to sprint higher with helicopter money flowing freely–peaking out at 33.6% in April–wow. Now the drift lower begins and now we are at 14.3%–still a huge increase from the norm. To say that the consumer is well 'funded' right now would be a huge understatement.
So the question is simply will markets continue higher with the FED manipulating interest rates and with the consumer having more cash than they know what to do with? Will the party continue until consumers get back to the normal savings rate? Or will it continue until that 'black swan' shows up one day?