January was a very good month for me with lots of dividends/interest showing up in account and share prices holding steady. February not so good–but no surprise to me.
I had begun to move out of the higher quality issues a few months ago–primarily because many were very overvalued–Gabelli CEF preferreds etc, but I purposely didn't move out of all of them. Reflecting on my history I have never been one to stick around and wait for capital losses, but I have moved on to a different stage in my income investing. This means I keep holding some issues just because of their quality–choosing quality (safety) for a small portion of my holdings–a very safe income stream which is blended with junkier issues.
Balancing the high quality holdings I have added higher coupon issues–more risk, but less reactive to higher interest rates.
So here are a few of the results of that move.
Quality issues have suffered. Shown below are charts of 2 investment grade preferred issues and their poor share price performance during the last number of weeks. The Rivernorth/Doubleline Opportunity Fund (OPP-A) which is A1 rated by Moodys has been beaten badly with the modest 4.375% coupon.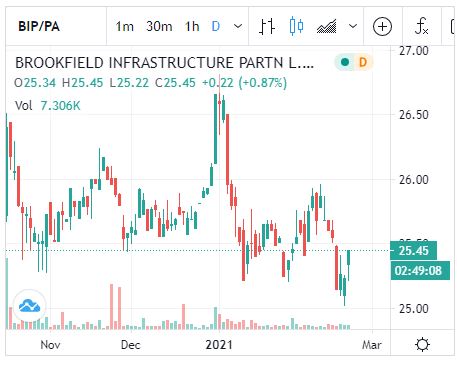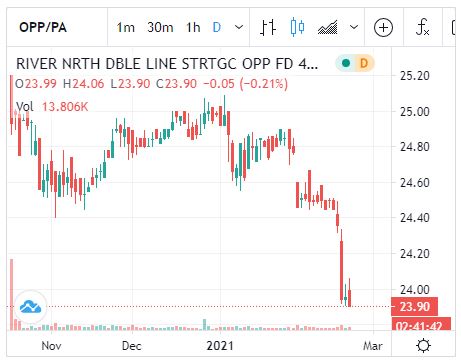 Below are two junkier holdings I have. The Vornado Realty 5.70% (VNO-L) ,which is now callable, has traded flat–I will take flat.
The second is a newer issue of biotech royalty company Xoma. This 8.625% issue (XOMAP) is trading strongly in spite of higher interest rates-additionally because it was a newer issue trading under $25 liquidation preference investors were drawn to the value pricing (in the eyes of the beholder of course).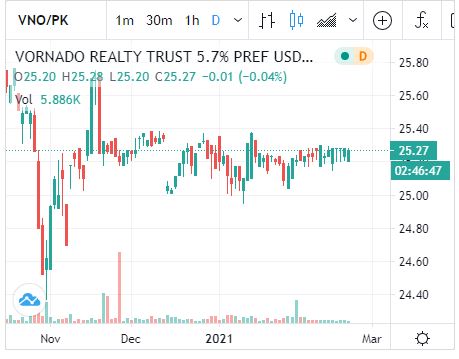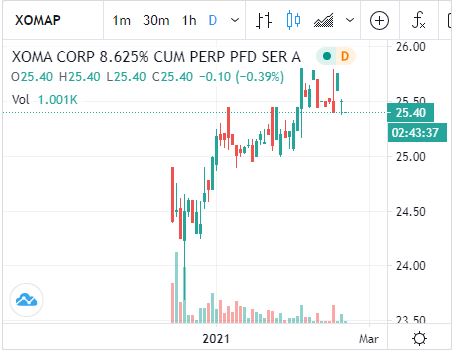 So we see the very typical pattern during times of interest rate increases–quality trades weak while junk trades relatively flat. Income investors demand a higher yield as interest rates increase–so they sell the low coupons to move to riskier issues.
The question then becomes should an investor buy more of the quality issues as rates rise? If you liked it at $25 should you love it at $24?
This depends on your opinion of interest rate movements and what you goals and objectives are at this point in your life.
I believe rates will likely continue to creep higher (hopefully slowly) as massive amounts of money chase goods and services causing some inflation. Being that I am 68 this year I also like the safety of investment grade issues. For me YES I will buy more as prices fall–I unloaded issues a month or two ago as their prices were out of control to the upside, but as they fall I will have to choose my buy points and start increasing my quality positions again.
For the month of February I am pretty much breakeven, which I am happy with as rates have risen–but I think March will be better unless we have an 'event'.