Again today, for the 3rd day in a row equities and bonds are tossing one hell of a party–giving me a chance to generate a little 'dry powder'.
I sold my CMS Energy 4.20% preferred (CMS-C) which I held for 13 months and garnered a 20% profit (including dividends). Certainly it met the 'safety' standard, but at a current yield of 5.2% the yield is somewhat substandard. If I thought interest rates were going to keep plunging I would have kept it, but my thought is that is a temporary situation (maybe for 6 months or even a year) and higher rates are coming down the road.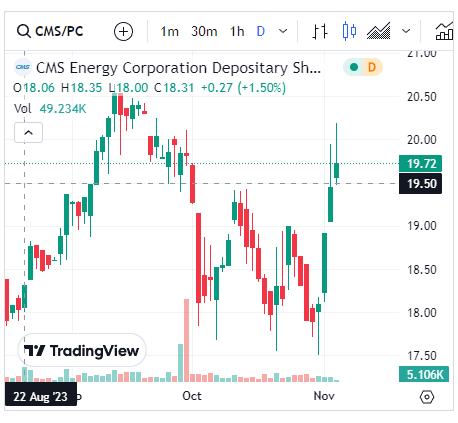 Now is the time to 'rearrange' your holdings if desired. If we would get a setback of sorts in income issues I want to have some dry powder to buy and I have had darned little for months and months.
Let's see if folks come to their senses and sell these markets off – at some point buy, buy, buy is going to turn to sell, sell, sell.