So as we expected last week was pretty bumpy—up and down.  While the week ended up down only around 300 points on the DJIA there was plenty of action depending on news on tariffs and trade–honestly this is the news–this is virtually all of the news that markets paid attention to last week–and it will be the key topic for the coming week.  Of course we have a holiday the middle of the week so market volumes will be lite, because all of the important people be "in the Hamptons" (sarcasm intended).
Interest rates (10 year treasury) moved in a range of 2.83% to 2.88% before finally closing on Friday around 2.85%.  Any move higher in rates is simply not possible with the trade issues and tariff possibilities ahead–everyone is looking for the safety safe haven of government bills, notes and bonds.  Of course the final look at 1st quarter GDP was plenty soft at 2%–.2% below the consensus.
As we had noted at some point in the last week we have begun to question whether our personal belief that the 10 year treasury will hit 3.25% is too high.  We really question whether the economy of the U.S. even has the ability generate growth of 4% at this point in time.  The GDPNow site of the Atlanta Fed had been forecasting GDP for the 2nd quarter as high as 4.7% or so a month ago–now the number has started to come back closer to reality at 3.8%.  We really question even this reduced forecast–from 2% to 3.8% in a singular quarter–not really buying it, but we shall see.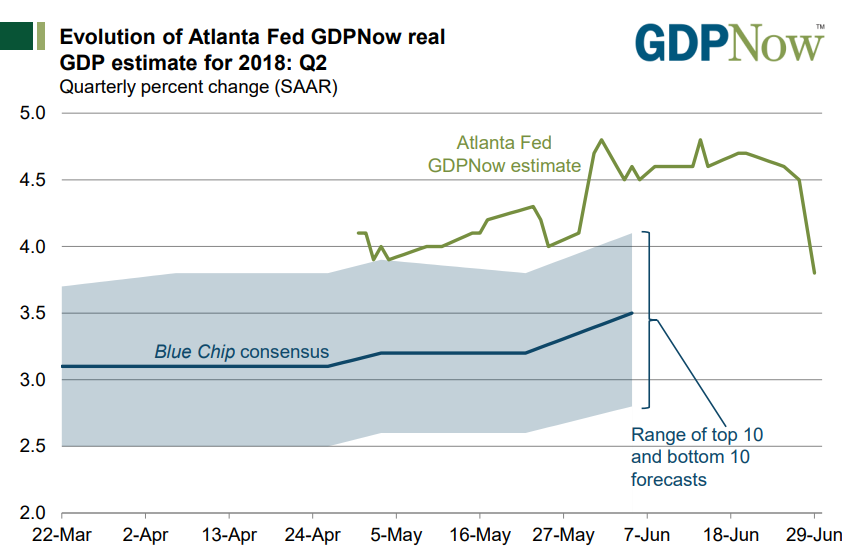 For the coming week we don't have any Fed presidents speaking–thank goodness.  While there are a few minor economic reports coming out only the ADP employment report on Thursday followed up by the 'official' employment report on Friday are meaningful.  Consensus is for 205,000 new jobs with an unemployment rate of 3.8%.  It will take a huge miss on consensus to move markets.
The Fed balance sheet fell by a further $10 billion last week which follows up on the $9 billion from the week before.
We had just 1 new preferred issue price last week and that was from Chicken Soup for the Soul Entertainment.  The regular preferred priced at 9.75%.  As one reader said the company name was enough reason to reject this issue–and we agree.  We quickly reviewed the financials of the company and while they are not terrible the revenues projected for 2018 is $36 million and we as conservative investors we really need to invest in more established companies.  The shares are trading under ticker CSSEP.
The average preferred stock was at $25.12 last week with 162 issues under $25/share.  These were virtually unchanged from the week before.