Liberty Broadband (LBRDA and LBRDK) is a company that has been mentioned in some comments the last few days–and has been discussed frequently by investors on this site.
Liberty Broadband is really a company that exists to hold a 26% stake in cable giant Charter Communitcations (CHTR). They have only GCI Liberty (the largest communications company in Alaska) as an operating unit generating around $1 billion in revenue per year–honestly this is almost meaningless to Liberty.
The story of Liberty Broadband and how they came into existence and why they hold a large share of Charter is a story of mergers, combinations, spin offs and de-mergers. It gets very complicated and I can't even begin to tell the story–one best go the Liberty Broadband website.
Moving along to the 7% cumulative preferred stock from Liberty Broadband (LBRDP). This preferred stock came into existence when Liberty Broadband merged with GCI Liberty which had preferred stock outstanding.
The registration statement for this preferred can be found here. You will especially note the following items in the registration statement. These are key provisions in the statement.
Liberty Broadband is required to redeem all outstanding shares of Liberty Broadband Preferred Stock out of funds legally available, at the liquidation price plus all unpaid dividends (whether or not declared) accrued from the most recent dividend payment date through the redemption date, on the first business day following March 8, 2039.
The certificate of designations does not provide for optional redemption of shares of Liberty Broadband Preferred Stock prior to the redemption date.
Obviously these items are not all inclusive so one would do well to read the information for themselves in the registration statement. Essentially these shares are 'term' preferreds–although the term is longer than those from Eagle Point Credit, Oxford Credit etc.
So what we have here is a 7% coupon, a current yield of 6.48% and a yield to worst of 6.01% (at todays price of $27). In these days of rising rates this remains a pretty solid income vehicle—this is an investment grade security–NO it is NOT rated as such, but let us take a look at the balance sheet of Liberty Broadband.
Below is the balance sheet of Liberty Broadband and you can see there are $17 billion in assets versus $7 billion in liabilities—very solid. BUT the balance sheet doesn't tell the whole story. You see the investment in Charter Communications is by far most of their assets–you can also see that that investment is carried on the balance sheet using the 'equity method' of accounting. Is the equity method 'fair value'? NO–the actual value of the Charter Communications shares is $35 billion (as of 12/31/2021). So instead of $17 billion in assets versus $7 billion in liabilities it is more like $35 billion in assets against those $7 billion in liabilities. KEEP IN MIND THAT CURRENTLY THE CHARTER STAKE IS LESS SINCE THE SHARE PRICE IS OFF SINCE 12/31.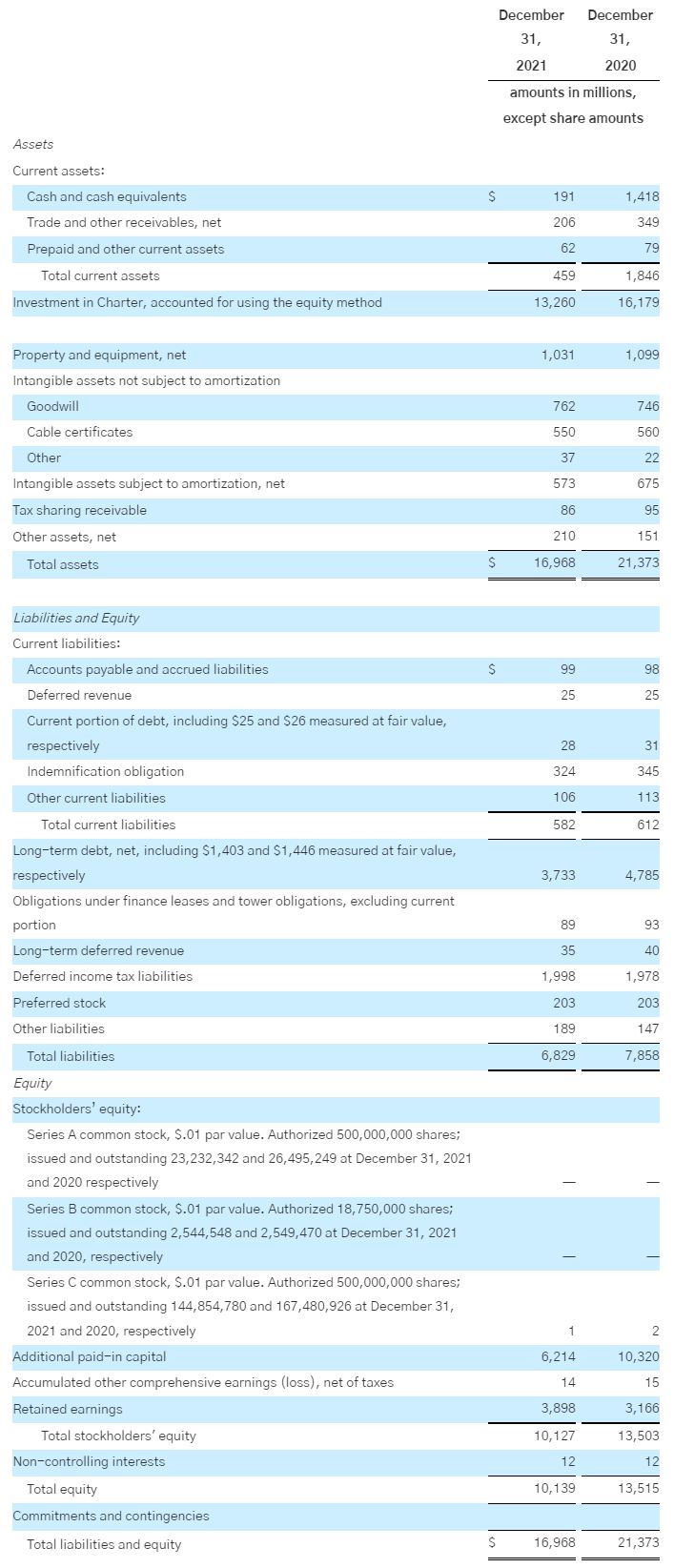 Now, as always, I don't recommend folks run out and buy these preferred shares—but I do recommend that folks do their due diligence if a solid 6.48% seems like a decent yield. Also being mandatorily redeemable the share price is more stable that a perpetual issue.