Well with the war in the Ukraine you know that the week will probably be wild–lots of ups and downs. Our hope for the week is that interest rates will stabilize in the 2.40% to 2.50% area and give preferred stock and baby bonds a bit of a respite–firmer pricing.
The S&P500 moved higher by 1.8% last week. There remains massive amounts of liquidity out there which continues to support the 'buy the dip' mentality. In spite of rising interest rates and the war in Europe the S&P500 is off just 5-6% from all time highs.
Interest rates moved higher last week with a rise of a whopping 35 basis points higher–moving from 2.14% to 2.49%. This week we have the important personal consumption price index being released on Thursday so we will get a snapshot on inflation–then on Friday we will get the employment numbers which could fuel interest rate moves higher–we shall see.
The Fed Balance sheet grew by $8 billion last week–a new record high level of $8.96 trillion.
The average $25/share preferred stock and baby bonds fell last week by 26 cents. Investment grade issues fell by 35 cents, banks fell by 38 cents, mREIT preferreds fell 4 cents with shipping issues up 19 cents. Obviously quality issues took the brunt of the losses last week with higer coupon junky issued doing relatively well.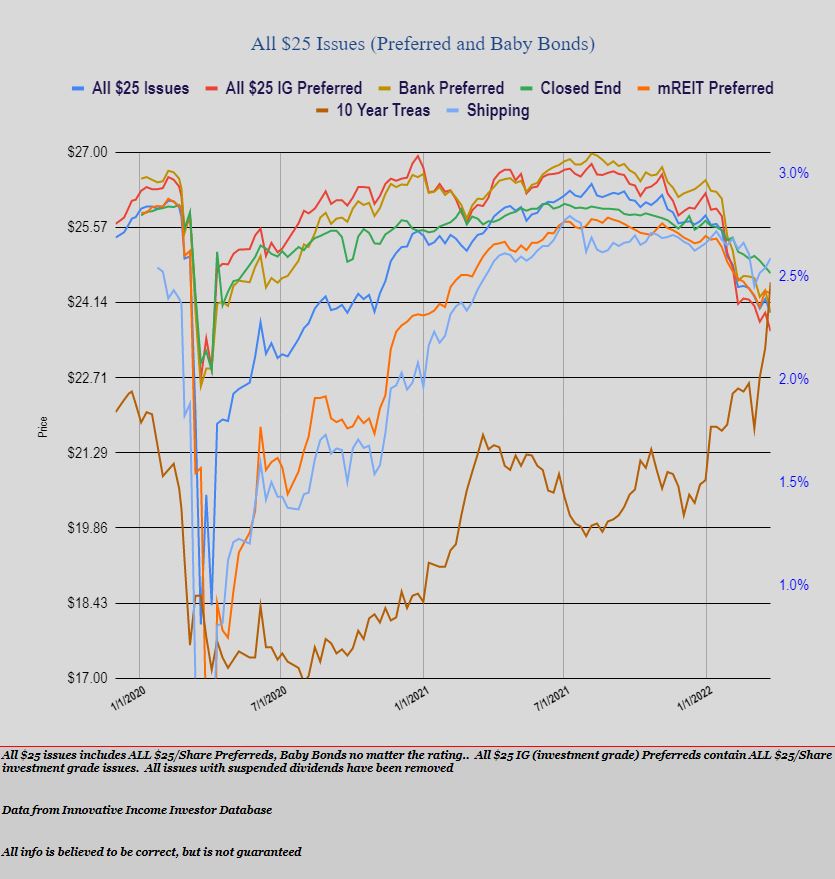 Last week,with rising interest rates, we had no income issues priced.