Well let's get another week going–the past number of months have been grueling for all investors and it is likely it will continue to be difficult. With the exception of a move down in oil prices last Friday we just are not seeing sustained, observable moves lower in costs. Last weeks move in oil is almost certainly not going to last with the Russia/Ukraine war continuing.
Anyway the S&P500 moved lower by a giant sized 5.8% last week after the Fed funds rate increase of .75% was met with an initial relief rally before collapsing much lower.
The 10 year treasury which was trading at around a yield of 3.48% on Tuesday before the Fed rate hike on Wednesday ended the week at 3.24%—a full 1/4% below the weeks high. Seems like we should be set up for a short term bounce in prices.
The Federal Reserve balance sheet moved higher by $16 billion last week.
Last week income issues were annihilated with the average $25/share preferred and baby bond lower by 72 cents. Investment grade issues fell by 69 cents with banks falling 71 cents and shippers off just 31 cents. mREIT preferred's were the big losers on the week cratering by a massive $1.45/share. These issues are now at their lowest level since 4/24/2020 (the start of the pandemic).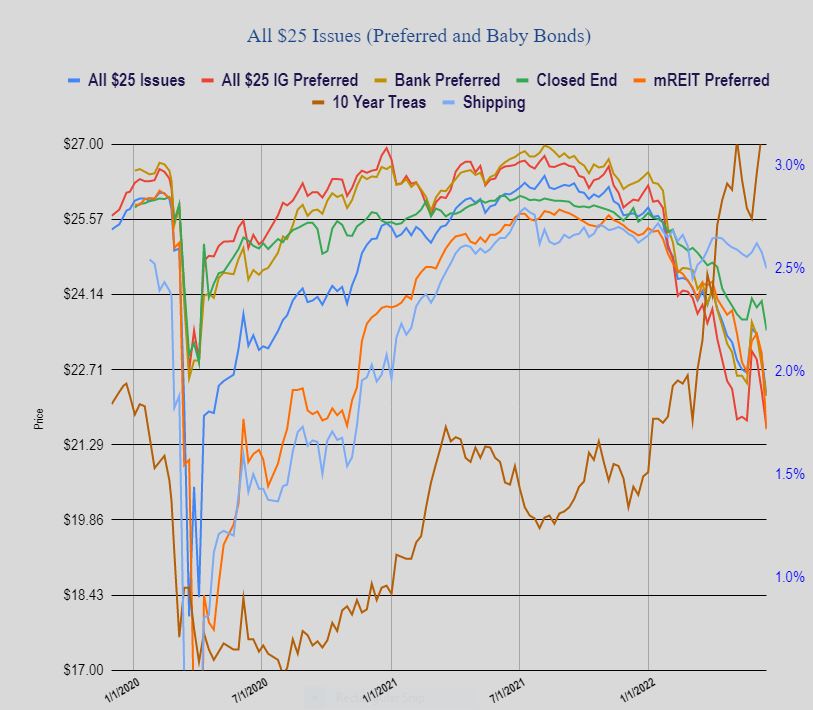 Last week we had no new income issues priced.