So income issues have taken quite a shellacking this week–in particular perpetual preferreds.
The temptation of conservative investors is to sell out and put the money in a mayo jar buried in the back yard–there are many investors which are already doing this–there are always folks (nervous nellies) that 'buy high and sell low', in particular those newer to the markets.
I would suggest that we will get a bounce of some magnitude in the income issues over the course of the next week–likely not a lasting move higher, but one which can be used to the income investors benefit.
Below you see a chart of the Arbor Realty 6.375% perpetual preferred issue (ABR-D). You see the bounce from 5/24/2022 around $20.50 to as high as almost $23 on 5/31/2022–then settling to $22 – $22.50 for the next week. This is simply a 'relief rally'–no new news of magnitude on the immediate horizon so buyers stepped in loving the current yield of around 7.75%. Here is where the bounce provides the opportunity to reposition the portfolio if you believe you are incorrectly in too many perpetual preferreds and are uncomfortable with the potential losses ahead.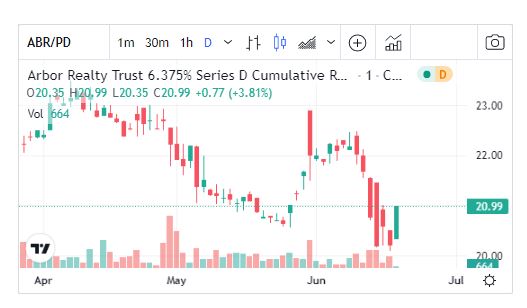 We don't know how large a rally might be (or if one will actually come), but this is the nature of the game. The point is that an investor has to sleep at night and if you are uncomfortable you need to lighten up and maybe move into some attractive term preferreds which have a 'date certain' redemption date. You may give up a little current yield moving to a term preferred, but it should provide a little bit of peace of mind.