Well Friday was quite a day – 'freaky Friday' I have labeled it. After a super strong jobs report where almost double the number of forecast jobs were created equity markets dropped strongly – only to bounce back in a very strong way to close over 2% above the low for the day.
Today we have bond markets closed–while equity markets trade as usual.
Last week the S&P500 closed about 1/2% above the close from the previous Friday— all things considered a stellar week for common stocks.
The 10 year treasury yield closed at a sickening 4.78% after hitting 4.89% earlier Friday after the release of the strong jobs number. The close was 21 basis points above the close the previous Friday–way too far too fast. Movements of say 10 basis points in a week are digestible, but movements of 20 basis points cause pretty severe indigestion.
This week we have the Producer Price Index (PPI) being released on Wednesday while the Consumer Price Index (CPI) will be known Thursday morning. It can't be overemphasized how important this data will be as we move toward the 10/31 FOMC meeting.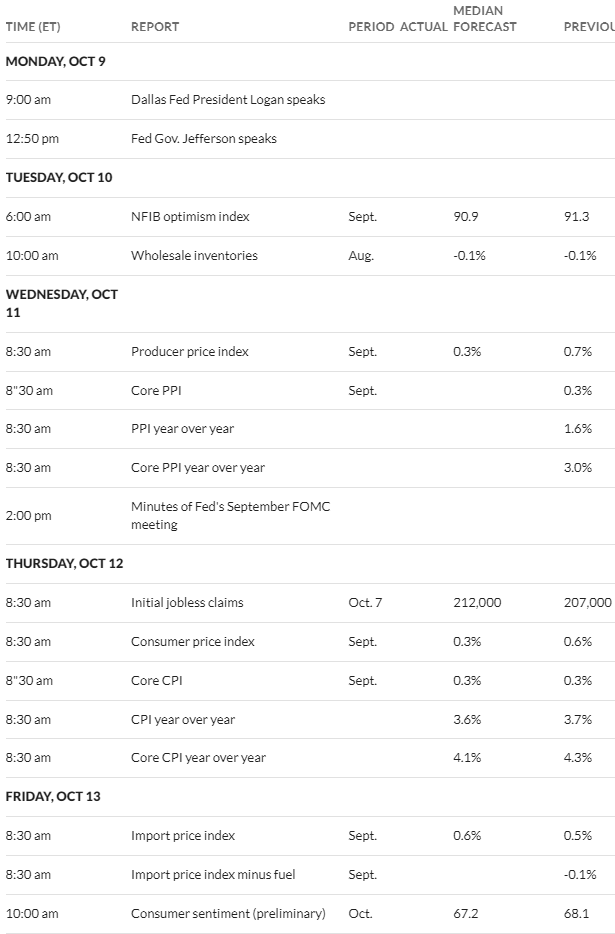 The Fed balance sheet fell by a hefty $47 billion as the run off of holdings continues–now the Fed holds less than $8 trillion in assets.
Last week was pretty dismal for $25/share preferreds and baby bonds. The average share fell by a huge 49 cents. Investment grade issues lost 30 cents, banking issues lost 57 cents, mREITs fell 46 cents while shippers lost just 11 cents. These prices are now at the lowest levels since the March, 2023 banking crisis.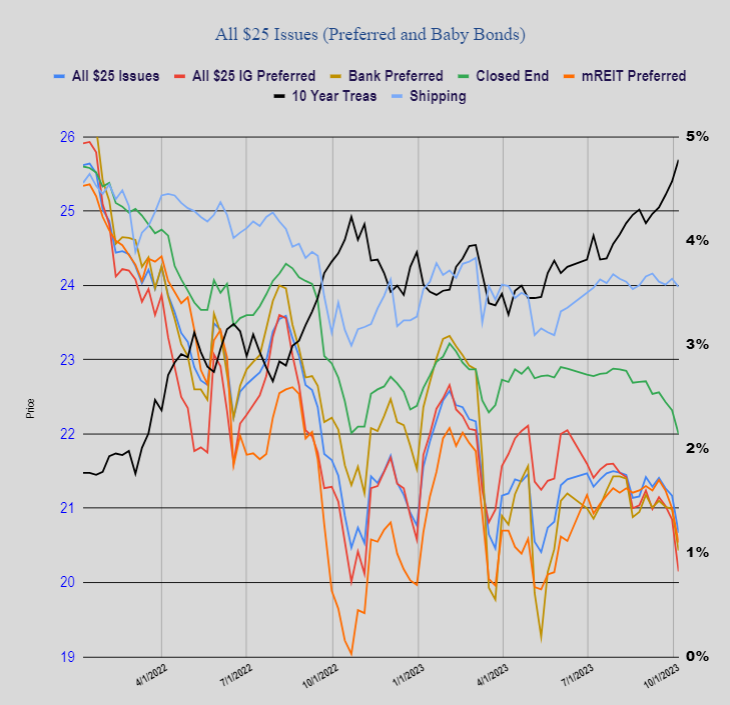 Last week we had no new income issues priced, but we did have SWK Holdings price a 9% baby bond the prior Friday. This new issues is now trading (SWKHL) and closed Friday at $24.68.