It has been a freaky day — but it has been a freaky 2 weeks for the preferreds of the Federal Agricultural Mortgage Co, (AGM).
Someone has been dumping shares continually and these high quality issues have been pummeled (note I own the AGM-E issue).
Farmer Mac provides financing in the agricultural sector and it is a very well managed company. Here is there latest earnings statement. I see no news or any reason for this selloff–maybe there is something out there–if anyone knows please chime in.
Here is the issue I own.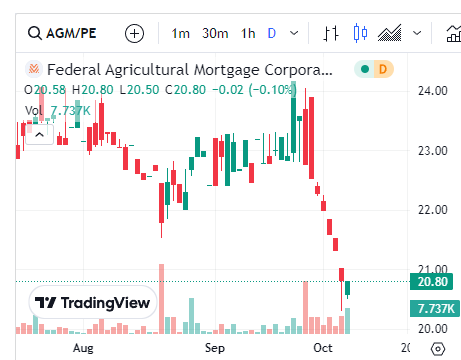 While it was not my intention to buy today I was reminded of this issue (and other AGM issues) by some discussion in the sandbox section today and entered a GTC buy order to add to my current position—we'll see if anyone wants to give me some shares at a sale price.