Right away this morning the DJIA is up about 240 points as we write, so it looks like the stock market will start off with a good move higher.   Interest rates are pretty much flat to lower in yield with the 10 year treasury trading around 3.08%.
The biggest factor this morning in the stock market move is some potential positive moves forward with China trade.  While Treasury Secretary Mnuchin is dealing with the Chinese certainly there are no guarantees that there will be a positive end to these talks.  Until the ink is dry on an agreement we all know that this issue could go south fast sending stocks lower.
This week we have 10 speeches by Fed Presidents—that is about 9 too many as all they ever do is cloud the marketplace with contrasting view points and forecasts that are no better than yours and mine.  Unfortunately these can be market moving talks and thus they are news.
We don't have any real economic news (except the speeches noted above) until Wednesday of this week.  On Wednesday we have the Mortgage Bankers Mortgage applications report which is looking to be down 2.7%.  Personally from local observations it wouldn't surprise me to see them down more than this amount.  Sales and re-financings of homes is softening quite a bit in rural Minnesota, but we know that doesn't translate to the rest of the country, but with rising rates and very high prices for new construction it is a perfect storm for reduced housing activity–thus less mortgage activity ahead.  We will have new home sales released on Wednesday as well and these numbers were strong  last month and expected to soften a bit from the prior level.
We also have the Purchasing Managers Index flash report (PMI) on Wednesday.  This is forecast to be flat month to month.
The FOMC releases minutes on Wednesday and this has the potential to move markets if there are opinions in this report that varies from conventional wisdom.  With the Fed Presidents yakking every day it is hard to believe there would be anything that surprises in this report, but one never knows.
Thursday we have the FHFA House Price release as well as the Existing Home Sales report.  These will not be market moving in any way–too many excuses (reasons) for these being off the mark.
Friday we have the Durable Goods report and this is anticipated to be softening when aircraft are counted, but up nicely ex-transportation.  Like most items this will likely not be market moving.
The Fed balance sheet runoff really picked up steam last week with a run off of $21 billion–a much larger move than recent weeks.  This serves to keep the pressure on interest rates.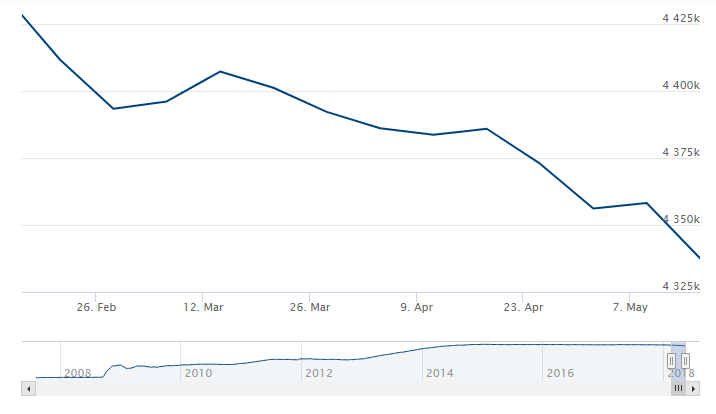 The average preferred stock and baby bonds fell by 5 cents last week.  Given the move in the 10 year treasury early last week this should have been expected–in fact we would have guessed a larger move down.  There are 202 issues trading below $25/share.
We had 1 new issue price last week and the B Riley 7.375% notes began to trade on Friday. Given that B Riley has 3 issues already outstanding with coupons of 7.25% to 7.50% there is really nothing new in the issue for us.