While I wouldn't call this week a 'disaster'–at least in my accounts, there was certainly plenty of pain. I have 3 major brokerage accounts and 2 of them were off 1/4%–but the 3rd has taken about a 1/2% hit. This doesn't really compare to losses we have seen in the past–of course most of this is due to portfolio composition which has never had such a large weighting to CDs, treasuries etc.
I see that oil prices are up a buck this morning trading right around $93/barrel (WTI). I paid $3.79/gallon yesterday–from a consumer confidence perspective it seems that $4.00 a gallon is about when folks start to really be squeezed (at least the 'have nots'). Thursday price hit the high $94s per barrel–so maybe we have seen the highs, although I don't really understand oil price dynamics so who really knows.
So we are 30 minutes from important economic news–personal consumption expenditures (PCE) in particular. While equities are up nicely at the moment and interest rates are down at 4.54% right now we know how quick this can change—30 seconds more or less.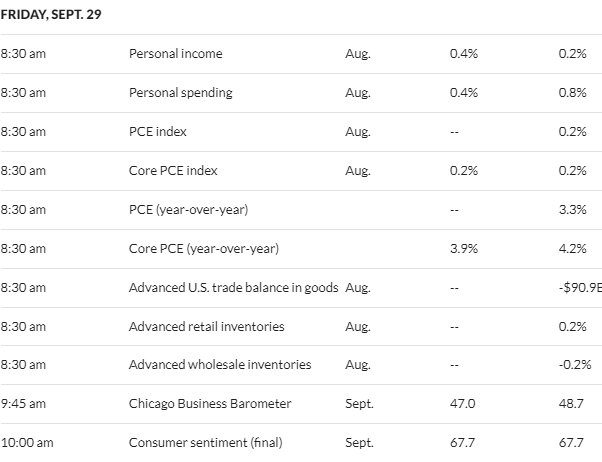 I don't even have to say it, but I will not be buying or selling anything today- just my gut feel at this moment is that there will be no reason to buy for weeks to come–by then we have new data and maybe it changes my outlook, but right now just watching from the sidelines.