So here we go into 2021 and right now the futures are up 155 Dow points–new year-same story.
Last week the S&P500 moved in a range of 3723 to 3760 before closing the holiday shortened week at 3756 which is about a 1.5% gain for the week.
The 10 year treasury moved in a range of .91% to .96% before closing the week at .92% which is 3 basis points lower than the week before–waiting for 'news' of some sort to move this rate out of the trading range in the .9%'s the last few weeks.
The Fed balance sheet moved higher in the Christmas week by $42 billion after going higher by a giant $120 billion the prior week. Last weeks number hasn't been released yet because of the holiday, but we know it will be jumping strongly with more stimulus finally signed into law.
The average $25/share preferred stock and baby bond fell by 8 cents last week. Investment grade issues fell by 22 cents. As we eyeball the last few weeks it looks like finally preferreds and baby bonds are pretty much flattening–it will be interesting to see what happens when/if we get a breakout in interest rates to the upside.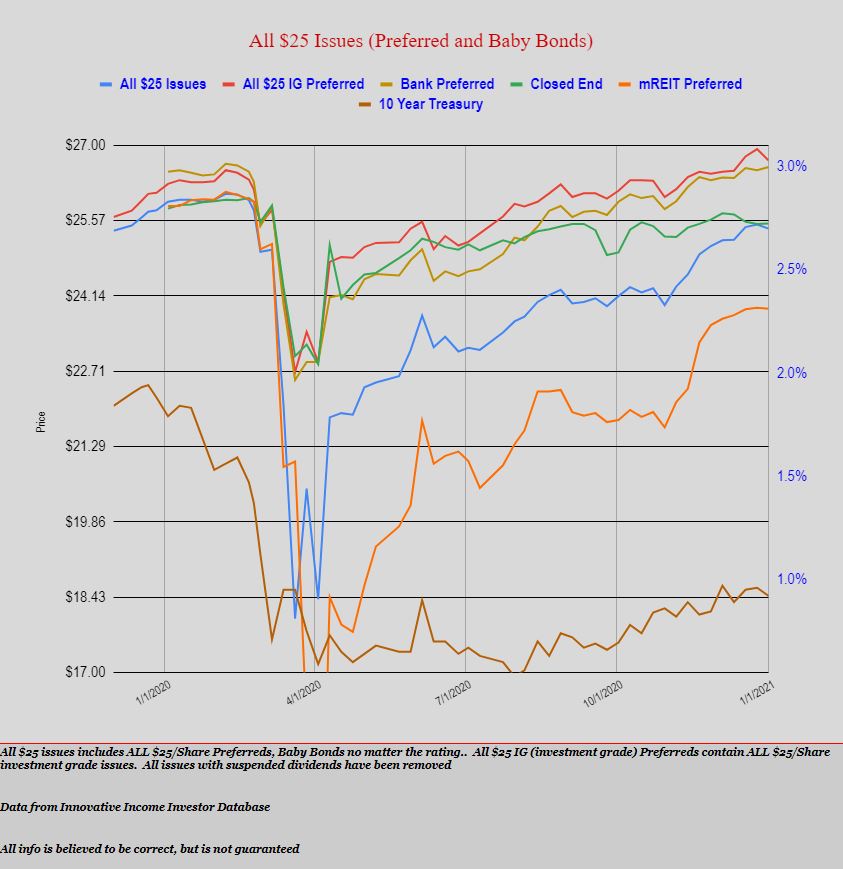 For the second week in a row we had no new issues announced, but I did post data on a new issue from 12/18/2020 from Alta Equipment (ALTG)–a 10% cumulative preferred. The issue is trading on the OTC grey market under ticker ALEQP and closed last Friday at $25.00.