We all know that the 'reward' from preferred stocks and baby bonds is all about the level of 'risk' one wants to take. If you want a safe 4% you buy perpetual preferreds from Public Storage (PSA). If you want to earn 6-9% you move up the risk ladder.
This weekend I finally had the chance to do some reading–some research (due diligence). My choice for the day was checking out some of the recent financial reports and presentations from the commercial mortgage REITs—moving up the risk ladder. Obviously I only look at the company's that have outstanding preferred stock and baby bond issues.
The commercial mortgage REITs have a plethora of perpetual preferreds and baby bonds outstanding-and from what I can see (or actually already knew) these issues are some of the most 'hated' in the marketplace.
After my review I think I confirmed (at least to myself) that Ready Capital Corporation (RC) is solidly one of the best commercial mREITs out there–although the company now is more broadly diversified as they have substantial participation in the residential mortgage marketplace with the acquisition of Anworth Mortgage last March.
RC has grown their assets in the last year by $3.5 billion in the last year with the Anworth acquisition and with heavy participation in the PPP loan program during the pandemic. All in all the company is doing extremely well.
The company's 3rd quarter presentation from 9/9/2021 is here.
Ready Capital has 1 perpetual preferred, 1 convertible preferred, 2 senior note issues and 1 convertible note issue outstanding-they can be seen here. Folks with a little tolerance for added risk should check these issues out–caution that many of these issues trade too high to be bought at this time.
Arbor Realty Trust (ABR) is a $9 billion commercial mortgage REIT focused on mainly agency (Fannie Mae and Freddie Mac) multifamily lending.
ABR is very well managed and during the pandemic minimized losses with only a modest amount of credit losses during the 1st quarter of the pandemic. Unlike many residential and commercial mortgage REITS that suspended preferred stock dividends for a short period of time ABR never missed a beat.
With solid financial performance and low interest rates ABR was able to 'refi' their high yield preferreds with 2 newer issues with coupons of 6.25% and 6.375% – all of which can be seen here. With these 2 issues trading at $25.42 and $25.55/share respectively and optional redemptions not starting until 2026 these issues provide a pretty solid opportunity.
While ABR doesn't do pretty presentations for us you can see there lastest 10Q (quarterly report) here.
TPG Real Estate Finance (TRTX) is another commercial mREIT which currently has respectable financials. Unfortunately during the pandemic the company, which is most concentrated in the office loan segment, took a fairly giant level of write downs during the 1st quarter of 2020. You can see a fair level of consistency in the last numerous quarters, with the exception of the ugly writedown quarter in Q1, 2020 below.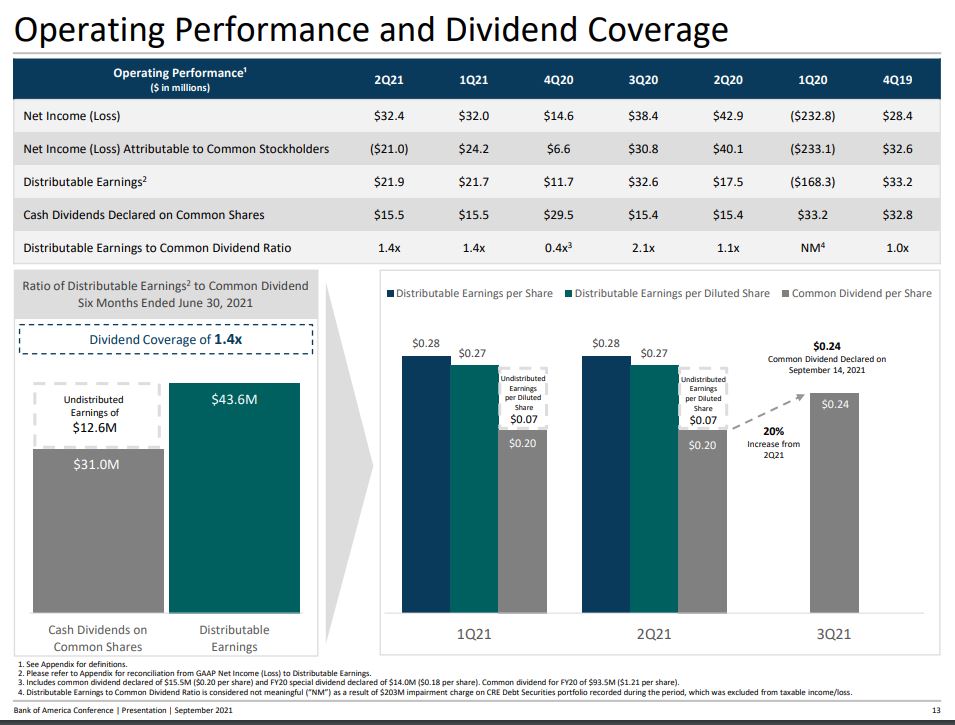 The company issued a perpetual preferred on 6/7/2021–TRTX-C, a 6.25% which has traded poorly since a week or two after issuance. The issue closed at $24.33 last Friday (it had gone ex-dividend for 46 cents on 9/17/2021) so the current yield is 6.42%.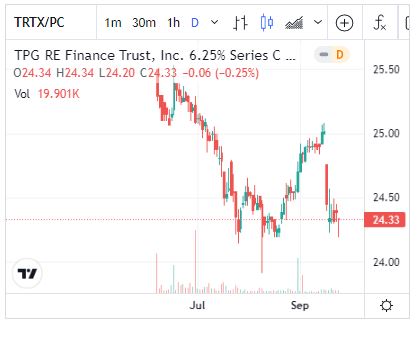 TRTX has just released a fresh Investor Presentation which can be read here.
Lastly I took a look at ACRES Commercial Realty (ACR). Previously this was Resource Capital and then it became Exantus, before finally becoming ACRES Commercial Realty (ACR) in February, 2021.
ACR suspended their preferred stock dividend in March, 2020 and these cumulative dividends were finally reinstated in September, 2020.
Just after the start of the pandemic the company received margin calls from their repurchase counterparties (debt is financing by short term repurchase agreements and when asset values fall sharply the counterparty may demand more collateral). The net result of this near death experience for the company was realization of huge losses.
In early August, 2020 the previous management of the company was terminated and ACRES Commercial took over management and simultaneously MassMutual Life Insurance and Oaktree Capital provided capital to ACRES to help shore up company finances.
In May, 2021 the company was able sell a new issue of perpetual preferred stock with a coupon of 7.875%. This issue joins the 8.625% fixed-to-floating rate issue which was already outstanding. Both of these issues can be seen here.
The company has posted their most recent investor presentation here.
With new management the company seems to be turning the company around and assuming some stability in the commercial market it appears the company will survive.
Remember it is all about the risk/reward and these 4 commercial mortgage REITs give investors a selection of baby bonds and perpetual preferred stock issues with coupons from 6.25% to 8.625% reflecting the various risks of the companys.
DISCLOSURE–I own issues from all 4 of the commercial mortgage REITs shown above–holdings are limited to smaller positions in each company.