As I noted last week I am going to add some relatively high quality issues to my portfolio and I am starting off with more preferred shares from issuer Tri-Continental Corp (TY) which is a $1.4 billion closed end fund. To me this is the finest quality CEF preferred available and very straightforward–maybe the #1 quality preferred in the publicly traded universe. The beauty is that virtually all their holdings are Level 1 assets (readily observable prices–i.e. common stocks).
The Tri-Continental Fund is managed by Columbia Threadneedle Investments–an asset manager with over $500 billion in assets under management.
The issue is a $50/share issue which originated in 1963 and carries a $2.50/share annual dividend (5%). The issue is now trading at $48/share giving it a current yield of 5.2%. Dividends are cumulative and most years they are qualified, but may also include return of capital.
Shares are redeemable anytime, but the redemption price is $55/share.
There are now 752,740 shares outstanding – the average daily volume (per Yahoo Finance) is 797 shares–so pretty thin, but adequate to fill a modest order most days.
It should be known that because Tri-Continental (TY) is a closed end fund they must maintain a 200% asset coverage ratio on senior securities. The preferred shares are the only (no debt) 'senior securities' the CEF has outstanding and thus carries a 4200% coverage ratio.
Note that I have a position already in this issue and in fact snagged a few shares last week at $47–I used a good til cancelled limit order for these shares. I have entered an additional order below $48 to see if I can get some more shares.
Here is their latest annual report for the period ending 12/31/2022.
Caution–while this is a extremely high quality issue it moves up and down based on interest rates (like all preferreds and bonds) and has traded in a very wide range in the 60 years it has been outstanding as can be seen in the chart below going back to 1973.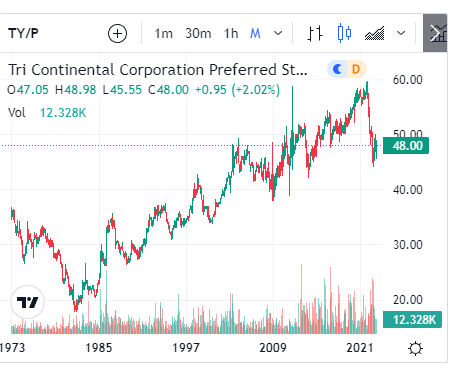 If you try to find this issue you will find the ticker used for it varies.
Yahoo Finance TY-P
Etrade TY.PR
Fidelity TY/P
I am certain others use different tickers.
For me this is a 'sock drawer' issue–to be held long term and simply collect the very safe dividend. This buy is about quality more than yield.
As always I write about what I am doing and this is not a recommendation to anyone to do anything–I am old school and I have no idea of the 'suitability' of what I do for anyone else.