Well here we go–the FOMC meeting is on deck starting tomorrow culminating with an interest rate decision to be announced Wednesday at 1 p.m. central. A presser to follow at 1:30.
Over the weekend we have Credit Suisse (CS) being bought by UBS for $3.2 billion. Of course the Swiss National Bank stepped in with a $108 billion backstop. This now will be a bank with $5 trillion in assets. It is also believed that Silicon Valley Bank (SVB) is near a sale while it appears that Signature Bank will be bought by New York Community Bank (NYCB).
Last week we had the S&P500 close 55 points higher than the previous Friday–1.4% higher. The low on the week was 3808 and the high was 3964–a range of around 4% on the week seems pretty tame all things considered.
Interest rates tumbled hard with the 10 year treasury closing out the week at 3.4% which is about 30 basis points below the close from the previous Friday. The 2 year treasury yield closed the week at 3.83% which was around 77 basis points below the close the previous Friday.
For the coming week, as usual, we have plenty of economic news, but mainly it is about the FOMC interest rate decision and further developments in the banking situation.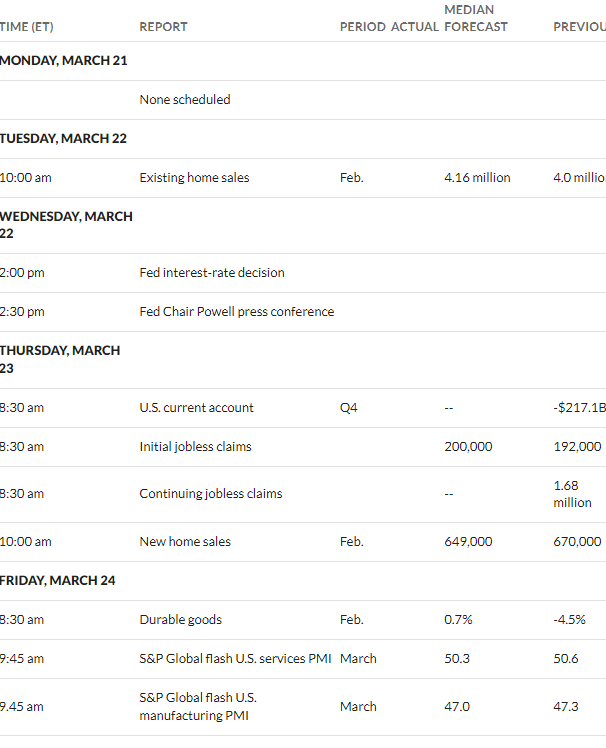 The Federal Reserve balance sheet shot higher by almost $300 billion last week as the Fed moved to loaning money on bank balance sheet assets. Obviously the banking issues have totally distorted the move by the Fed to use quantitative tightening (QT).
The average $25/share preferred stock and baby bond took a hard knock last week falling by 72 cents. Investment grade issues fell 43 cents, banking issues fell by 70 cents, mREITs by 87 cents. At an average of $20.65 we are .the lowest prices since 11/4/2022.