As noted by kapil this morning (and previously on Friday by ESW3) the website was mentioned (and linked) in the Wall Street Journal on Friday.
The article by Jason Zweig, was relative to the SEC regulation 15c2-11 – 'expert markets' and the debacle of listings on certain OTC securities.
The article is here. You need a subscription to read the full article.
Here is a snip of a small part of the article –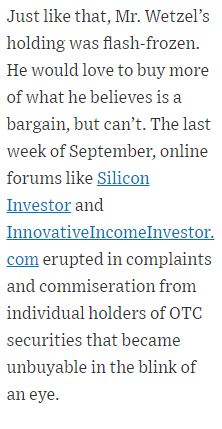 Thanks to all for being active in discussion that is enough to garner some attention for our little part of the investing universe.