Earlier this week furcal asked about the insurance company Argo Group (ARGO) baby bonds and reset rate preferred.
I have avoided them because of their small market cap–about $772 million and I tend to shy away from some insurance companies–in particular 'specialty insurers'. You may recall Atlas Financial, which was a specialty insurer, who went broke a year or so ago–I learned a lesson there.
Argo has a 6.50% baby bond outstanding (ARGD)which currently trades at $24.27 for a current yield of 6.76% This issue matures in 2042. This issue traded lower as all issues did, but bounced back strongly until their earnings release after which is tanked some again. The issue is rated BBB- (investment grade) by Standard and Poors.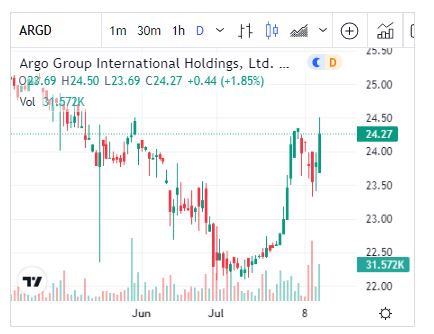 They also have a 7% reset rate preferred outstanding (ARGO-A) that has fallen hard after the earnings release–currently yielding 7.59%. The reset rate is in 2025 and is at 6.721% plus the 5 year treasury–which today would mean a 5 year coupon (the reset is every 5 years) of 9.70%–wow. This issue is rated BB by Standard and Poors.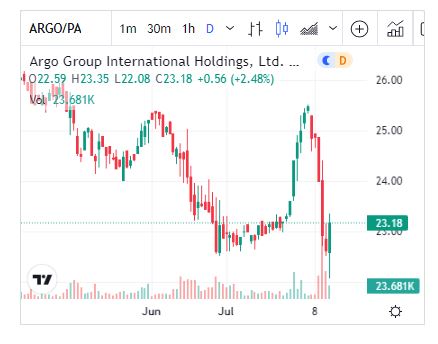 Argo has about $10 billion in assets, but has had a string of bad underwriting decisions in recent years and the financials have been 'subpar'. They have recently been taking actions to jettison some bad policies and to sell some non core assets. They also have a newer management team and board of directors.
So are these tasty issues worth a bit of a nibble or are they yield traps?
The most recent 10-Q (quarterly earnings filing) can be read here.
My inclination is to take a very small position in the resettable preferreds and then watch. My assumption is that this issue will not be outstanding after 9/15/2025 (assuming what we know about interest rates holds true) as the coupon would be sky high. I am also assuming they get their underwriting fixed and they maintain current credit ratings.
Any thoughts?