Wesco International (WCC) which merged with Anixter International earlier his year is about to make their 1st dividend payment on the juicy 10.625% fixed rate reset cumulative preferred on the 30th of the month.
The WCC-A issue went ex-dividend today for around 73 cents–the first payment is for slightly over 3 months.
The company is a giant in the business to business distribution and supply chain business with revenue now in the $17 billion area.
You can be certain there is plenty of risk in Wesco as they are rate B1 by Moodys and BB- by Standard and Poors. You can read S&P's take on the combined companies.
I only mention this issue because depending on your risk tolerance this may be a reasonable holding. The reset period isn't until 6/22/2025 so at 10.625% there is plenty of 'meat on the bone' yet even though shares closed at $28.30 today.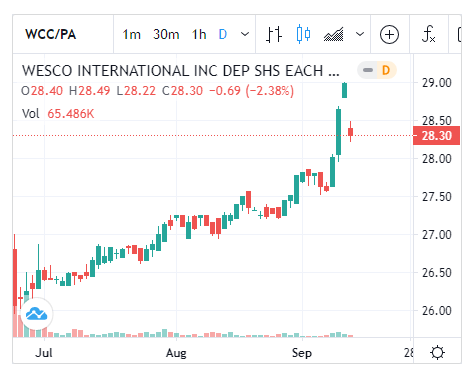 Disclosure–I hold a position in this issue which I bought in the $26.90 area.