Things are quiet–really quiet. The S&P500 is moving in about a 3/4% range, but at this moment is up just .07%—there is no doubt about it that the debt ceiling is holding the market hostage to any major moves. I'm just going to wait to see what happens there prior to further commitments to preferreds or baby bonds.
CD rates remain high–as much as 5.30% on a 1 year–and I might go ahead and add another purchase there – 1 year at 5.25 or 5.3% is darned good – there are NOT call protected but a 9 month or 1 year commitment may well go all the way to maturity.
Here is what FIDO has right now available.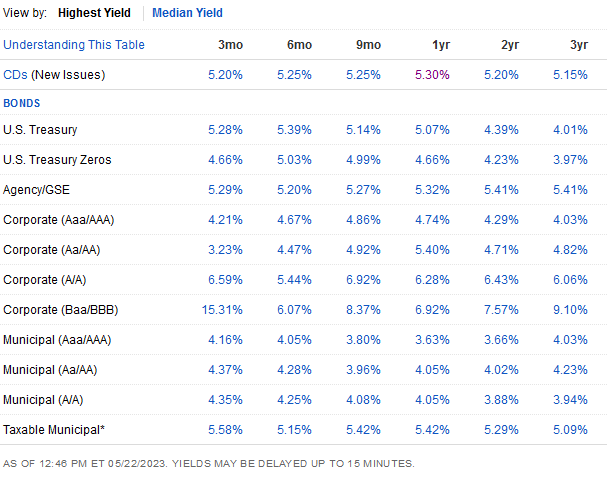 I see that PacWest has sold off a bunch of there real estate loans–of course at as discount, but the discount isn't as high as one might expect–the portfolio is a $2.7 billion portfolio which they sold for $2.4 billion. Info is here. The regional banks continue to de-risk.
I was just looking at the lodging preferreds and while it should be obvious to everyone why at this point in time would anyone buy any of the Sotherly (SOHO) issues? Current yield on their issues are about the same as Pebblebrook (PEB) and other other higher quality issues–it makes no sense–should be trading in the 10% current yield area. The lodging preferreds are here. Regardless I am not adding further to lodging issues until we can see the debt ceiling resolved and then I will step back and re-evaluate given the potential recession ahead.
The 10 year treasury is right at 3.70%—treading water just like equities. So I guess I'll just watch and wait.