Yesterday we had jobless claims come in higher than anticipated, yet on Wednesday we had the ADP employment number come in much hotter than forecast. Today we need to see employment come in soft–the Fed wants to see employment soften and we need to start the accumulation of softening data NOW.  The next FOMC meeting is June 13-14 and while I have a strong opinion that the rates hikes should be 'paused' I have little trust in the  Fed  and given the chance they will screw it up, by hiking rates again in June.
Today's economic calendar–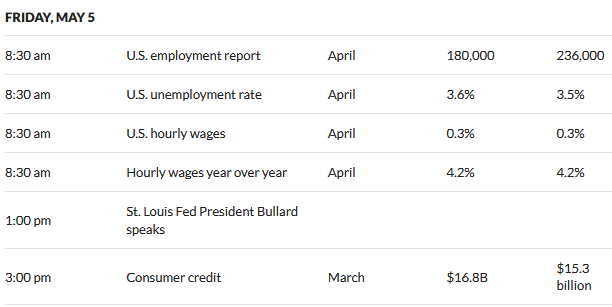 This morning I see banking common shares bouncing nicely, but we all know this can change in a nano second.  Yesterday was extremely painful across the banking AND insurance preferred stock sector–we seem to have some contagion going on and even though all my insurance and banking holdings are very modest there was some pain–I ponder selling, but I vacillate since I feel strongly that these 8% (and sometimes 9%) current yields are going to be golden in most community bankers, but I don't want to try to be a hero.  
I see there is talk of restricting short selling in the bankers – on one hand the idea that a bunch of very wealthy folks can get much wealthier through rumor strikes me as wrong, but on the other hand when either the Federal government or the SEC does something to stymie a 'problem' you can almost be certain that they will create other issues. The entire issue is one giant mess and there is plenty of blame to go around including managements–and honestly shareholders. In a bid to create more income folks do things that are stupid–they are forced to do it by shareholders who always want more income (i.e. Dividends and higher share prices )every quarter and every year instead of taking a long term approach. Obviously this is just one person's opinion (me).
Well 30 minutes until economic data – let's see what happens.