This falls in the 'whoa is me' category.
Large business development company Prospect Capital (PSEC) sold a perpetual preferred some time back–7/2021. The issue has a 5.35% coupon with a BB rating from S&P and a Ba2 from Moody's–not investment grade, but a reasonable rating at the time for the coupon.
This issue has fallen to as low at $20.85 today–a current yield of 6.35%.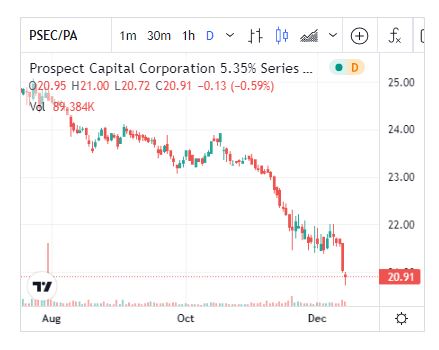 As a holder of this security I have pondered selling–on the other hand I have pondered buying. I think at this point I am more likely to buy–not going to sell as there is no fundamental reason to sell and the coupon is good. A review shows the balance sheet strengthening somewhat in the last year–it has all I need–except the reputation.
At this point I am a holder.