HankLA posted a comment today in the Reader Initiated Alerts page which was very short today–
Bridgewater Bancshares is trading, BWBBP
With this little note I know some of you folks picked it up at a reasonable price (unfortunately I wasn't one of them).
Shortly thereafter I posted a short note that the issue was now trading. Then shortly after – 'blastoff'– from $25.10 all the way to $26.50.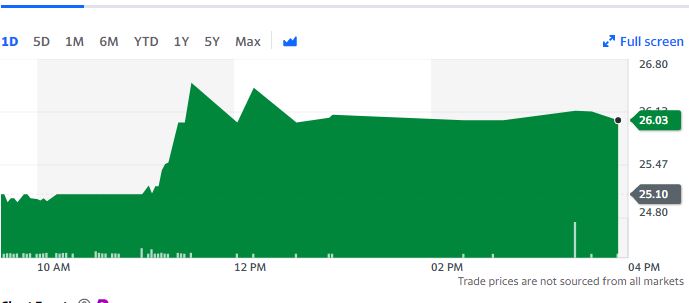 A big THANK YOU to HankLA for the heads up – a lot of folks owe you a steak dinner I think.
Anytime I post something it immediately goes out to about 2,000 folks (that I know of)–more when those that are using a RSS feed are counted. I wouldn't have caught the start of trading without the input Hank and everyday the 1000's of pairs of eye balls keeping an eye on the market for items like this keep us all up to speed.