This is a topic which I have written about many times and was reminded of it when reading some comments on long term bonds (baby bonds) in one of the threads.
When you are fearful–worried about risk to your capital the place to turn to is either 'term preferreds' or short dated baby bonds.
When long term bonds are being hammered by rising interest rates in almost all cases issues that are out there with a 'date certain' maturity in the next 1-5 years will move only a small fraction of the price movement of those bonds which have maturity dates out in 2050, 2060 or way, way out. This is exactly why in the past I have held exclusively term preferreds and short maturity baby bonds (that is not currently the case).
My best example is 2 term preferreds from CEFs that I own (overweight on both). These 2 are the RiverNorth Capital and Income Fund 5.875% term preferred (RMPL-P) and the XAI Octagon 6.5% term preferred (XFLT-A).
You can see below that over the course of the last year these 2 issues have traded in a tight range of less than $1/share. The RiverNorth issue has a mandatory redemption in about 14 months (10/31/2024) and the XAI issue has a mandatory redemption in 31 months (3/31/2026).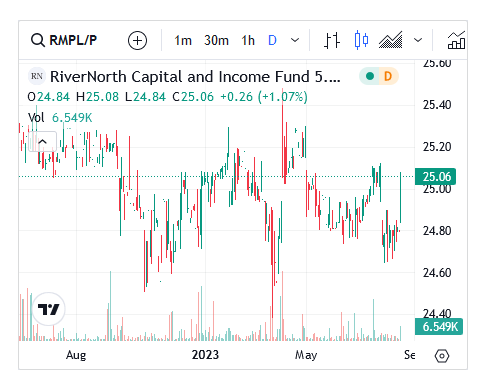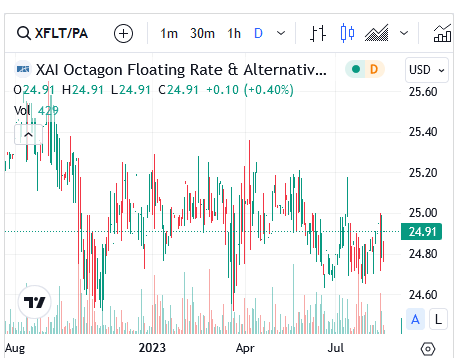 One will give up some coupon for the pleasure of have a more stable capital investment. Obviously one wants to purchase these in the lower part of their trading range–and in no case should one pay over $25 or your yield to maturity will fall.
I have a page of the term preferreds and short dated maturity baby bonds which one can find here. Of course regardless of the issue one must do their due diligence on the issuer–short or long dated maturities will make no difference if the company files for bankruptcy.