I guess we should start the week out by calling the White House to find out what the presidents tweets will be for the week.  Not only do we have the so called "trade war" tweets but now we have the Syrian gas attack issue to deal with.  Oh well at least both would likely be supportive of preferred stocks and baby bonds assuming we don't get a major panic in which the baby goes out with the bath water.
Last week the DJIA traded in a range of 23,400 to 24,600–a range of 1,200 Dow points–around a 5% range.  No matter how one slices and dices this move it is substantial–and at times a bit scary.  At this point in time I don't see any reason why this type of movement would change–I don't think the president will quit tweeting.
Last week the 10 year treasury traded in a range of 2.77% to 2.81% which is honestly a pretty tight range considering all of the noise in the equity markets and global tariff threats.  It seemed to me that the 10 Year 'wanted' to trade lower in yield, but the supply of new notes and the run off of the Fed Balance sheet which was $6 billion last week were acting to counter even lower interest rates.  Given that the Fed had little to no runoff in March,  April could be a 'catch up' month in terms of balance sheet runoff.  Below are the Fed balance sheet trends for the last 3 months. This shows that the Fed could conceivably runoff another $44 billion in assets in April ($20 billion of runoff carried in from March and another $24 billion for April–they are now on a $30 billion/month runoff plan which is above the $20 billion/month from Jan-Mar)  which would put a fair amount of pressure on the treasury markets.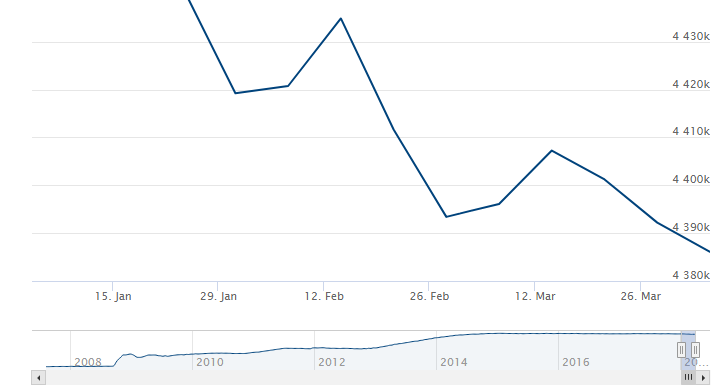 Last week we didn't have any new income issues announced.  The new Allstate 5.625% preferred stock began trading on the NYSE and is trading just above the liquidation preference at $25.17/share
The new WR Berkley 5.70% baby bond began trading on the NYSE last week and is trading a bit weak to begin with.


On the economic front we have a number of items that may be of significance.   We have the PPI (producer price index) on Tuesday and the CPI (Consumer Price Index) on Wednesday. The expectations for PPI are an increase of .1% while expectations for the CPI are for an increase of .2% in the core rate (which does not include food and energy).  We think that if the CPI is hotter than .2% there could be a modest market reaction, but generally, as with last week, we think there will be so much noise around economic news that data will be lost in the noise.
The biggest economic news related item will be the issuance of $154 billion in government debt ranging from 3 month bills to 30 year bonds.  The auctions start on Monday with the 3 and 6 month bills being sold and continue on Tuesday, Wednesday and Thursday.  In combination with potential Fed runoff of the balance sheet any slack demand could prove very costly to the bond markets.  Of course interest rate movements will be  dependent on equity market movements as they react to White House tweets and other similar pieces of so called news.