OTC ticker is PRIFP
Non publicly traded CEF Priority Income Fund has priced their 1st issue of perpetual preferred stock. Historically the fund has only issued 'term' preferred stock (stock with a redemption date).
The issue prices with a coupon of 7.00% for 1.4 million shares with another 200,000 reserved for over allotment. The issue is rated BBB- by Egan-Jones.
The coupon for this new perpetual preferred stock is 1% above that which the company could have garnered with a term preferred. Obviously the perpetual nature of this new issue is a feature Priority Income desires–it allows the company to get out of the continuous cycle of issue, redeem and then re-issue. Each time the company goes through this cycle they spend substantial money on the issuance costs of the new issue (3.15% on just the underwriter discount).
All of Priority Income Fund's outstanding issues can be found here.
The new issue will trade under permanent ticker PRIF-K when it reaches the ultimate stock exchange. The OTC ticker has not been announced.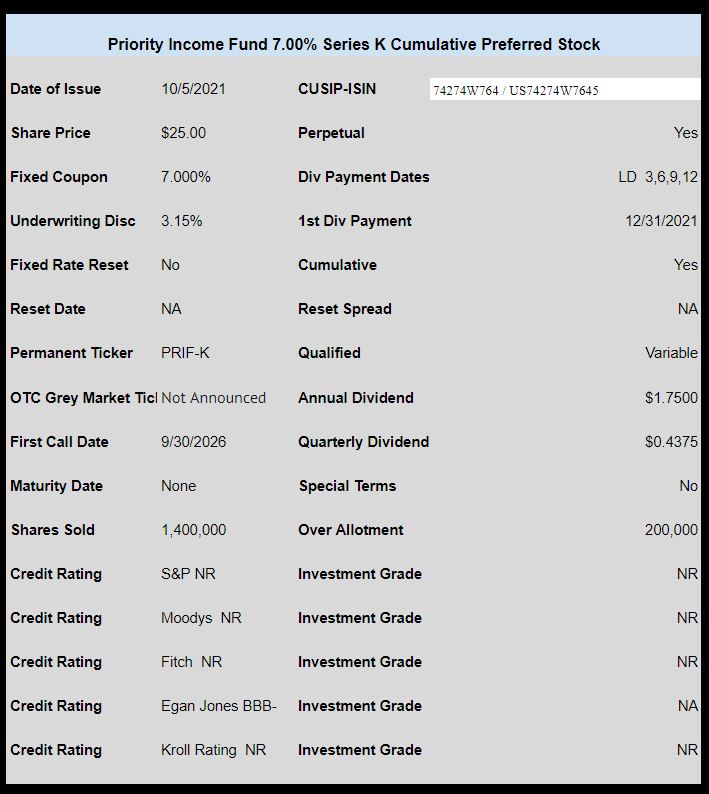 The pricing term sheet can be read here.