We are awaiting economic news at 7:30 am (central) and markets are currently pretty quiet.
The personal consumption expenditures (PCE) is forecast to show year over year inflation at 4.7% which would match last months reading. The core reading is forecast to show a .4% rise compared to .6% last month. This number could put the fed in a real pickle – a hot number begs for more interest rate increases, but with the banking situation a rise of more than 1/4 basis point at the next meeting (May 2-3) is pretty dangerous.
Here is the balance of todays economic news.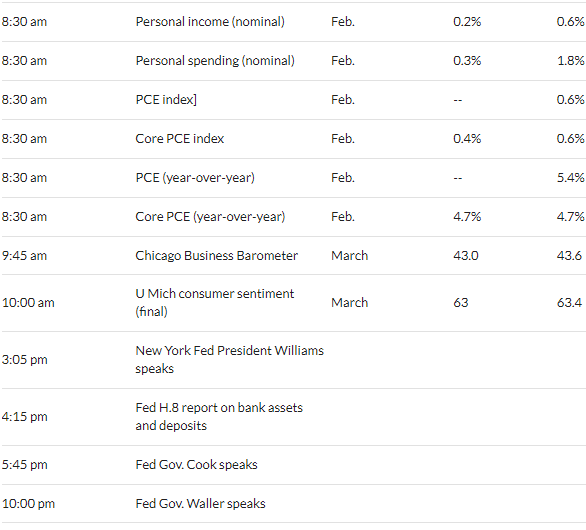 As with most days I have no plans to do anything at all today–I have just the 1 open good-til-cancelled buy order and it is more than $1 away from my buy price.
Today we have a blizzard warning in Minnesota – I have had it with this winter–March 31 and we still have a 4′ high pile of snow at the end of the driveway. Certainly we will get no sympathy from the folks out west in the mountains. In mid January we spent a week in Palm Springs–one of our favorite spots and with the benefit of hindsight I wish we would have delayed until February or gone again in March.
Well let's get this day rolling see if things get crazy or remain calm.