Almost daily I look at many preferred stock issues that I might want to own–some are for 'flips' but some are for long term holding.
My own searches and comments made by folks on the site usually lead to some preferreds with really interesting behavior — most of it appears to be 'herd mentality' related.
This morning I was looking at the SL Green 6.50% perpetual (SLG-I) preferred as shown below.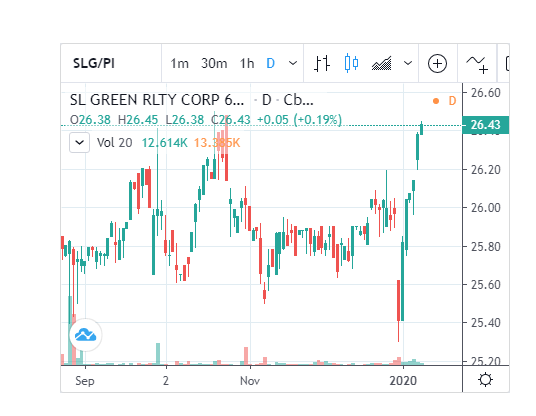 The issue went ex dividend on 12/31 and was marked down by the dividend amount–in the $25.40 area–6 days later the issue is trading in the $26.40 area–$1 higher.
This pricing is crazy–at least if you are a rational investor. This issue has been callable since 8/2017.
I hope that those on this site that had owned the issue are now exiting–my guess is that some readers have nice profits on this issue on short term trades–that's great, but now is time to exit. This is but 1 example of irrational behavior by buyers at $26.40–there are lots more.