Party On S&P500 and NASDAQ!! The DJIA is lagging, but it really no longer represents the real market which is why I always specify the S&P500.
I just added to a position–UMH-D 6.375% perpetual preferred from UMH Properties. The current yield is just shy of 7%–the issue is currently optionally redeemable as of 1/22/23–but at $23.32 this is no issue.
I posted a presentation from manufactured home REIT UMH Properties (UMH) a couple days ago and I wanted to go through it before adding to what was a 25% position–now a 50% position. The presentation is here.
While this issue is not rated by the major ratings agency I personally assign a higher than average quality to it. Over the years the company has performed well with the manufactured home parks and their history goes back to 1968–so lots of history.
Revenue continues to climb at a nice pace–year after year.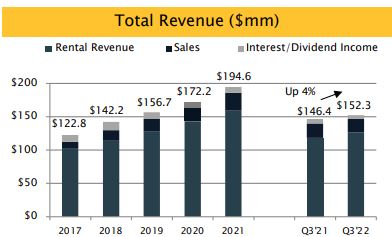 Funds from operation (FFO) have taken a nice bounce in the last year.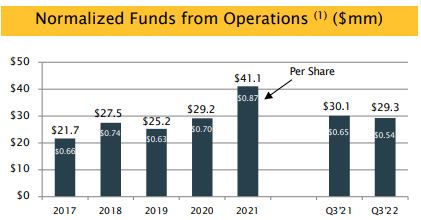 All in all the company is now run very soundly and there is plenty of demand for site rental and housing rental. Not a glamorous business, but one which is necessary.
ADDED NOTE–the company continues to have investments in other REITS, but now they are carried on the books at $39 million versus $113 million a year ago.