Just some miscellaneous items you may have missed this week. All the comments and discussion on the Sandbox page and Reader Alert pages continue to be a never ending source of good information and 'food for thought'.
On Tuesday fc asked–why is the 3.9% Public Storage Perpetual (PSA-O) which was issued in November, 2020 trading at $26.05 while the 4% perpetual (PSA-P) which was issued in June was trading at $25.24? Good question–no real answer to that question. You can see it fell after that question–BUT the 4.% issue fell as well–both victims of rising interest rates. The 3.9% issue remains out of whack with other PSA low coupons.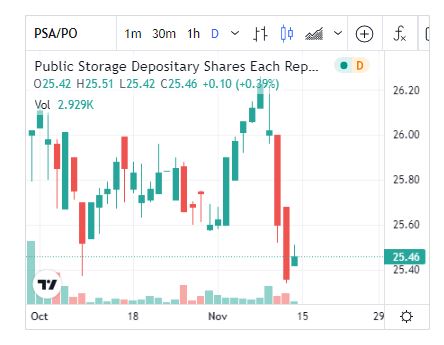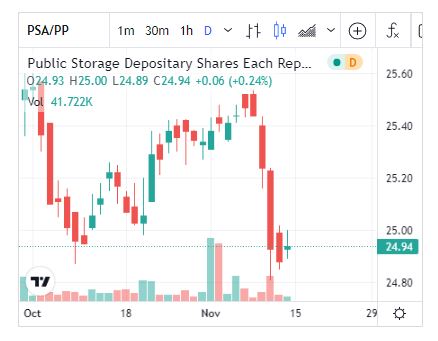 On another topic (inflation) Martin G posited this question–1% erosion in share price but still collecting dividends as compared to 7% erosion being in cash. Food for thought.
2whiteroses and mbg kicked around the pricing on the PhenixFin 5.25% new baby bonds–PhenixFin is the old Medley Capital–a BDC with a checkered past. Certainly there are other options available other than the PhenixFin offering.
Ken mentioned that we got a hard confirmation of the redemption of the 6.875% OFS Credit (OCCIP ) for sometime between 12/10 and 12/25.
David P mentioned that he received notice that the Logan Ridge Finance 6.00% notes (CPTAL) will be 68% redeemed on 12/6/2021.
Lastly folks (lots of them) continue to have trouble buying new issues–'closing transactions only' is the normal message.