I normally have smaller capital gains and smaller capital losses than maybe the typical perpetual preferred investor–and I give up some higher potential coupons in doing so.
Closed end funds (CEF's) can typically sell lower coupon preferreds because some of them sell 'term preferred' issues. A term preferred has a stated mandatory redemption date–not unlike most bonds–versus a perpetual preferred which has no mandatory redemption date whatsoever and may be outstanding for 100 years (of course no one knows for sure). This typically means that the 'term preferred' is less volatile than a perpetual preferred and the losses and gains that occur over the course of a year or 2 are minimized–all due to the 'date certain' redemption date which is typically 5-6 years or less.
Additionally CEF's have to maintain a 200% asset coverage ratio on their 'senior securities' (debt and preferred shares). This is an added level of safety.
My 2 largest holdings–by far are the RiverNorth Capital and Income Fund 5.875% term preferred (RMPLP or RMPL- or RMPL-P or others as all brokers have a different ticker for this one) and the 6.50% XAI Octagon Floating Rate and Alternative Income Term Trust term preferred (XFLT-A).
Note that the mandatory redemption on the RiverNorth issue is 10/2024 and the XAI issue is 3/2026.
The reason I hold these–and have for years–is because it is a reasonable coupon, they have to maintain a 200% asset coverage and the movement of the share price is relatively minimal (compared to a perpetual).
Do I like the closed end funds–not really–to me they are dogs and in the case of the RiverNorth issue is not well managed. This means I keep an eye on the funds even though I don't hold the common shares–this is not a 'set it and forget it' investment (to me there are no such things).
Here is the RiverNorth issue for the last 4 years. Compared to a perpetual it has had a tight range.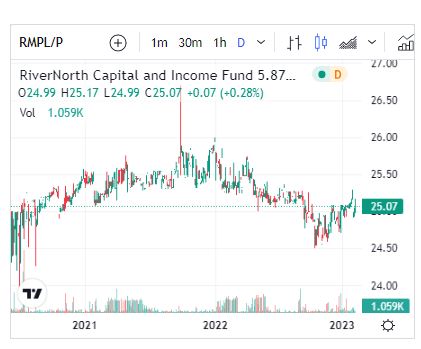 At this point in time these 2 issues should only be bought around $25–and both have been trading near there for the last month.