The 'dog days of summer' continue with the DJIA trading in a range of just over 200 points last week. With super earnings being reported by many companies in the 2nd quarter there have been individual movers, but overall equity markets are pretty quiet. Even quieter than the equity markets has been the 10 year treasury market with the yield on this note trading in a range of 2.83% to 2.90% with a weekly close of 2.89%. It has now been 2 months since the 10 year treasury closed at 3% or higher.
For the coming week we have a limited number of major economic reports being released. Today we have Existing Home Sales and on Wednesday we have New Home Sales.  As usual neither of these reports will have any impact on markets, but they could be interesting as last week we had Housing Starts and Building Permits reported and both were weak numbers.  On Thursday we have Durable Goods Orders being reported.  Friday we have the 1 potentially market moving report being released and that is the 1st read on 2nd quarter GDP.  This is forecast at a very strong 4%, although the Atlanta Fed GDPNow forecast is at 4.5%.  Seems to us that if these numbers are attained they may well move the 10 year treasury somewhat higher–in a more traditional/normalized economy the movement would be large–in this global economy buyers continue to love the 10 year yield so the affect is likely to be muted.
The Fed Balance Sheet remained dead flat last week with no runoff nor purchases to speak of–less than a billion.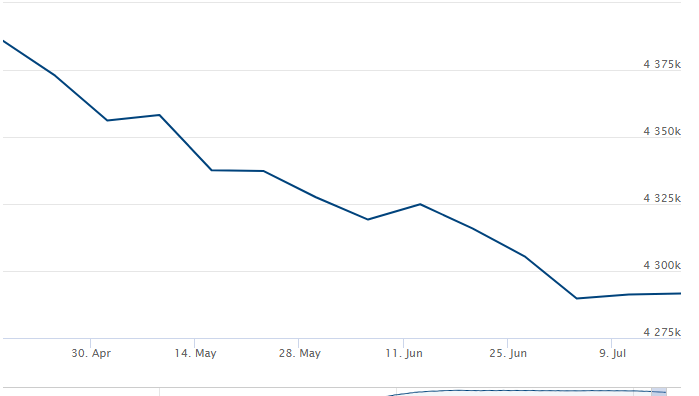 Last week Bank of America (NYSE:BAC) sold a new fixed rate non cumulative preferred issue and we believe they will use the proceeds to call one of their older higher coupon issues–most likely BML-I which is a 6.375% issue which is from the Merrill Lynch acquisition and has been redeemable since 2010.  The other older issue is the 6.20% issue BAC-D which became redeemable in 2011.  The new issue is large enough to call 1, but not both issues.  The new issue is trading on the OTC Greg Market under ticker BKAML and closed Friday at $25.07.
The new BAC issue has a coupon of 5.875% and will have a permanent ticker of BAC-K.  It is not of interest to us, but for conservative investors it would be a reasonable holding.
Energy Transfer Partners (NYSE:ETP) sold a new fixed-to-floating rate preferred last week with an initial coupon of 7.625%.  As one reader noted they felt as though they were 'thrown' under the bus as the MLP had just sold a 7.375% fixed-to-floating rate preferred in April and the older issue fell from $25.60 to $24.80 on the news of the new issue.
The new issue is trading on the OTC Grey Market under the ticker ETPZF and closed Friday at $25.00.  We did take a small position at $24.80 in personal accounts and the Enhanced High Yield Portfolio.
The average preferred share closed at $25.25 last week which was a couple pennies higher than the week before.  There are 149 issues trading at $25.00 or below which is 4 issues more than the week before.