Last week was a relatively quiet week in markets–the S&P500 moved in a range of 3907 to 4208–closing at 3965 which is a modest loss of less than 1% from the previous Friday close.
The 10 year treasury yield ended up at 3.82% on Friday which was less than a basis point higher than the previous Friday. The yield traded in a range of 3.69% to 3.90%. Rates were held in check by the very soft producer price index which was released last Tuesday–coming in at 1/2 the expected level. This week we have no real economic releases on Monday and Tuesday, but numerous releases on Wednesday–durable goods, jobless claims, consumer sentiment and some other minor items. Then we have a holiday and the end of the week with no releases scheduled–all in all a quiet week.
The Federal Reserve balance sheet continued to be reduced with a $53 billion reduction week—after a $2 billion increase the previous week. At $8.625 trillion we have a very long ways to go.
Trading in preferred stock and baby bonds last week was relatively quiet–just the way I like it. The average $25 share was off 9 cents on the week. Investment grade issues rose 3 cents, banking issues were off 4 cents, mREIT issues were down 3 cents.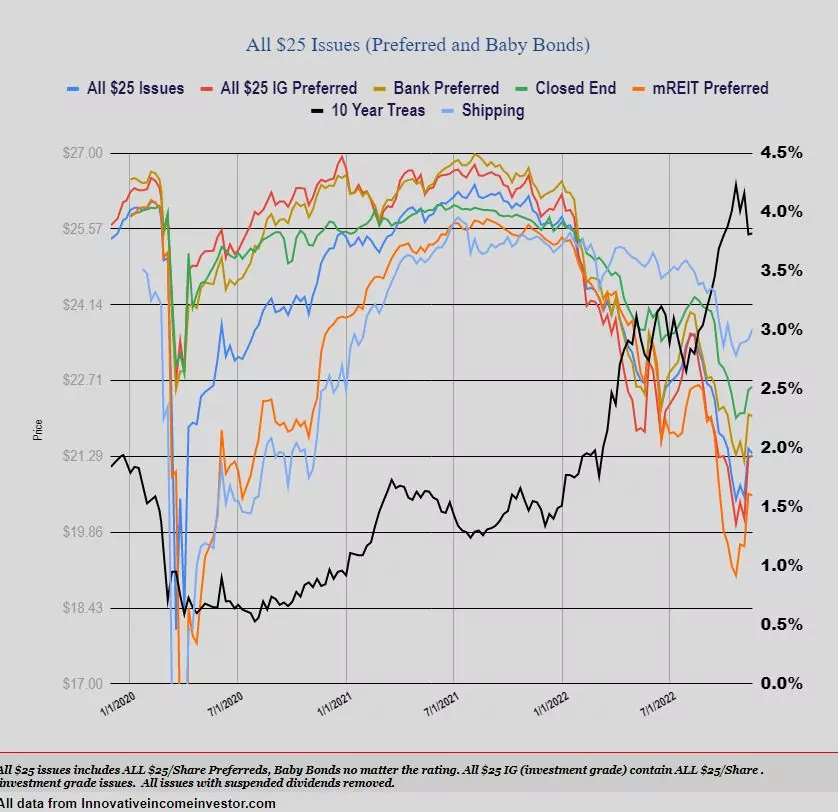 Last week we had 1 new income issue priced by Lincoln National Corp. (LNC). The perpetual preferred was priced at 9% after poor quarterly earnings hindered more favorable pricing. The issue is investment grade.
The issue is now trading at $26.69 on the OTC grey market under ticker LNCDL for a current yield of 8.4% with a yield to 1st call date of just under 8%. Disclosure–I bought a small amount last week and may add again today.