Well last week was a very strong week for equities of all types. The S&P500 gained around 4% on the week–a very strong rally after a Fed rate hike and relatively week GDP numbers for the 2nd quarter. Seems like a little backing and filling is in order–but who really knows.
Interest rates moved lower last week with the 10 year treasury closing the week at 2.64% which is 14 basis points lower than the close the previous week. Certainly the bond markets are signaling a belief in a slowing economy, but as we all know these things can take time to develop.
The Fed balance sheet fell by $9 billion last week–of course the balance sheet will never fall appreciably because of congress's spending habits. With the balance sheet at $8.89 trillion down from an all time high of $8.96 trillion I think the odds of the balance sheet ever getting below $8 trillion are pretty low.
Last week was an excellent week as $25 preferred stocks and baby bonds moved strongly higher.
The average $25/share preferred and baby bond moved up by 39 cents last week. Investment grade issues powered higher by 53 cents, banking preferreds moved 37 cents higher, mREIT issues were 49 cents higher, while CEF preferreds were up only 18 cents and shipping preferreds moved 6 cents higher.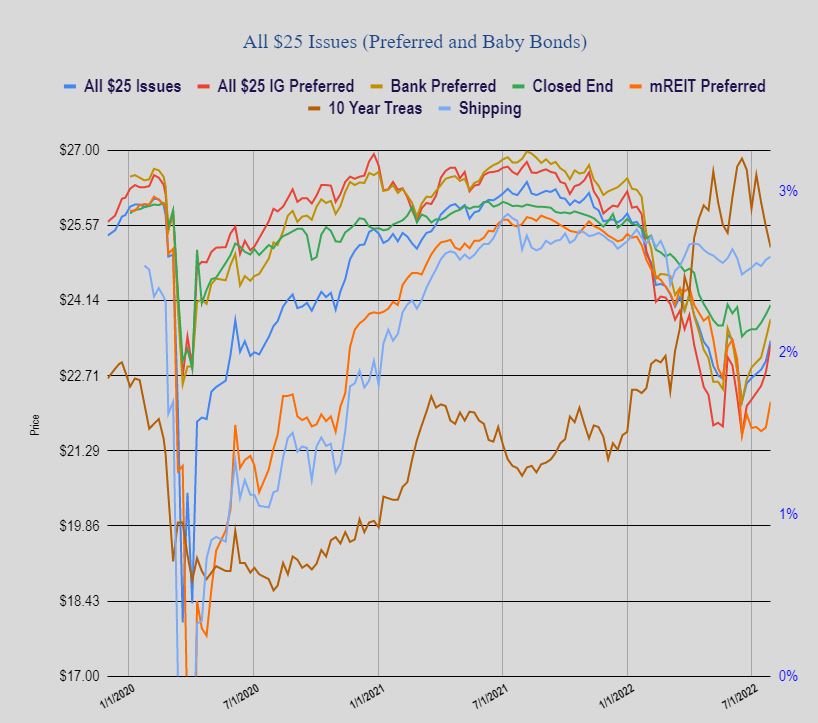 Last week we only 1 new issue priced and the issue was from Morgan Stanley.
Morgan Stanley (MS) priced an investment grade perpetual non-cumulative preferred stock with a very tasty coupon of 6.5%. The issue is now trading on the OTC grey market under ticker MSSXL (a change from the ticker shown in the chart below) closing at $26.06 on Friday.