Well we know this week will be an exciting week as we have a 75 basis point Fed Funds rate increase starring us in the face–oh well this has been known and considered for weeks so likely no surprise here (well really I have no idea) Of course it really isn't about the rate hike, but is about the Fed statement and the Powell presser afterwards on Wednesday afternoon. Will Powell indicate a softening in his hawkish view during the press conference? Or will he simply reiterate that they are 'data dependant'?
On top of the Fed Funds increase we get the 1st read on the 2nd quarter GDP on Thursday. The 1st quarter was a minus 1.6% so any minus reading technically means a recession is at hand–but of course this will be the 1st estimate of GDP with the 2nd release in late August with the 3rd and final reading on September 29, 2022. The forecast is a positive .3%–so we will have to see what Thursday brings us.
Last week the S&P500 moved sharply higher -part because of some corporate earnings being 'less bad' than expected and partially based on lower interest rates because of recession fears–not certain it all makes any sense, but it is what it is. The index was up 2.55% closing at 3962.
The 10 year treasury closed on Friday at 2.78% which is 15 basis points lower than the previous Friday and 30 basis points below the high yield for the week. With the 2 year treasury at 3.02% obviously the yield curve is inverted–recession? We will see as the recession call is actually more detailed than 2 quarters of negative growth.
The Fed balance sheet rose by about $3 billion last week
$25/share preferred stock and baby bonds had a good week with the average share up 17 cents. Investment grade issues were stronger gaining 26 cents. mREITS gained 7 cents with CEF preferred up 18 cents.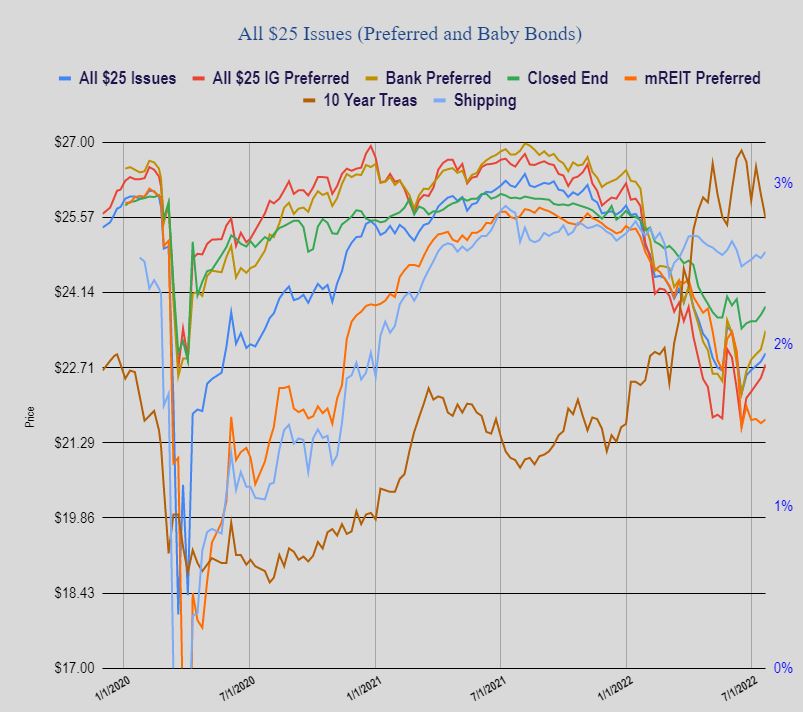 Last week there were 2 new baby bond issues priced by business development companies (BDC's). Neither issue is trading as of yet (as far as I can find).