Well is the bottom in for now? I don't really know–no one knows, but there is plenty of speculation by the talking heads expecting a 10% bounce in common stocks at this time–of course with the 6.5% bounce last week it may be near over.
Last week the S&P500 rose by a healthy 6.5% in a holiday shortened week of trading. The index started the week at 3675 and closed on Friday at 3912–right near the high for the week.
The 10 year treasury yield was at 3.24% the previous Friday traded as low as 3.01% during the week before closing the week at 3.125%. Recessionary fears appear to have a grip on the market–for now. Friday we will have another inflation indicator–the PCE index will be released on Thursday and will be closely watched by markets as it is said to be a key indicator for Fed Chair Powell.
Last week the Fed balance sheet rose by $2 billion to $8.934 trillion.
Last week we saw some strength in the average $25/share preferred stock and baby bond with prices rising by 35 cents/share. Investment grade shares were very strong with gains of 54 cents/share. Bank issues rose 43 cents, mREIT issues rose 40 cents, while CEF preferreds rose just 10 cents.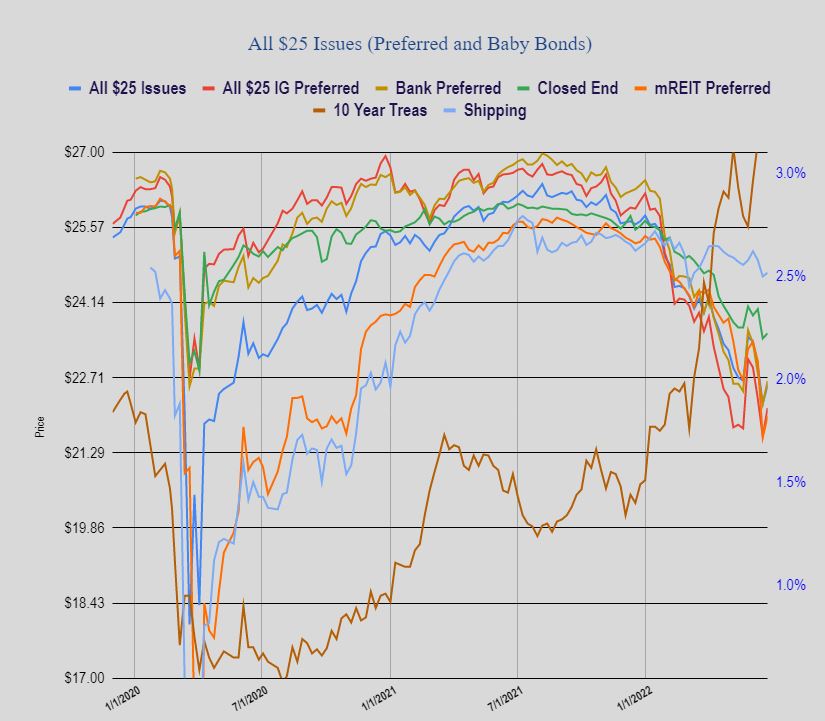 As has become typical in these times of volatility no new income issues were priced.