Another exciting week in the stock market–although in a positive sort of way with the S&P500 closing the week at about 4501 which was about 1.6% higher than the previous Friday close. No doubt we will follow this week up with more volatile trading this week.
Interest rates as represented by the 10 year treasury broke convincingly above the 1.90% mark to close the week at 1.93%. No doubt heading to 2% soon–I just hope it takes a full month to get through that mark since we need digestion of rates to keep from decimating income securities, which had another rough week last week.
The Fed balance sheet grew by $13 billion last week reversing the minor fall in assets from the week before.
Last week was another difficult week for $25/share preferred stocks and baby bonds with the average issue falling another 15 cents. Investment grade issues fell by 27 cents as lower coupon, high quality issues fell by almost double the rate of fall of 'junkier, high coupon' issues. Banking issues fell by 27 cents, while mREIT preferreds fell by 18 cents while the shipping issues were the only winners on the week at a plus 13 cents.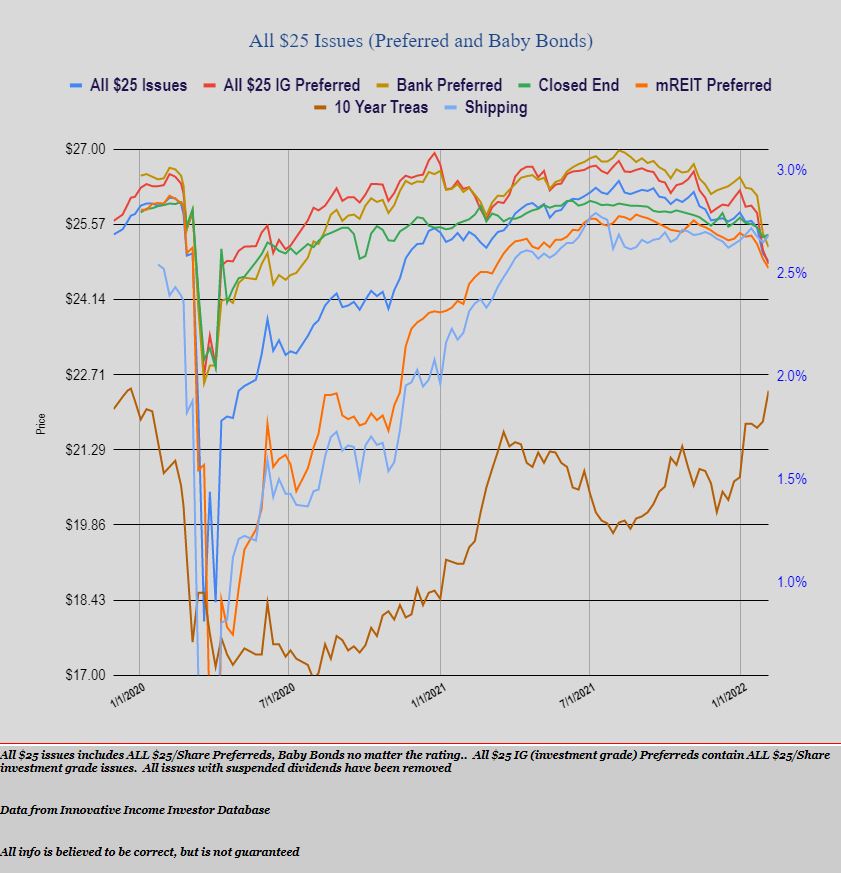 Last week we had 1 new preferred issue brought to the market with another preferred being reopened.
US Bancorp (USB) brought a 4.50% perpetual preferred to the market. The investment grade issue is trading on the OTC market under ticker USBOV and closed last week at $24.67.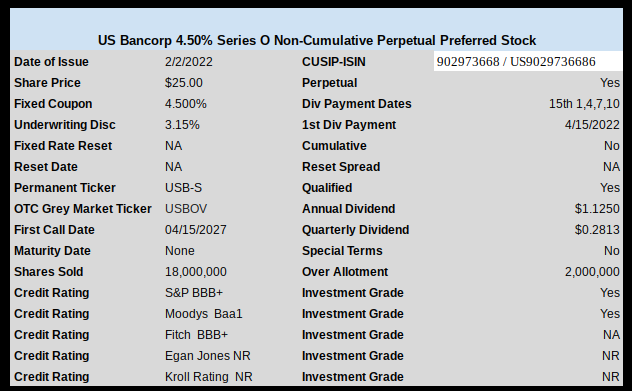 mREIT Arbor Realty (ABR) 'reopened' their 6.25% fixed to floating rate preferred (ABR-F) by selling over 3 million new shares at pricing of $24.20. Unfortunately this sale served to send the issue to a closing price of $23.80 last week.