Well the 10 year treasury closed at 1.954% today after trading as high as 1.97%–right at the cusp of 2%.
On Thursday we have the latest consumer price index (CPI) being released and like everyone I expect the year over year number to be 7.x%. Honestly I don't care too much about the year over year number–I care about the month over month inflation. The month over month number is forecast at .4% so it seems to me that a .4% or even better a .3% would be met with a rousing rally in equities which hopefully would stop the 10 year from popping over the 2% level. Obvious a .5% would send rates higher—I know they are going higher but 'speed kills' and I want rates moving at a snails pace.
As I watch rates go higher it is really interesting to watch 'perpetual' preferreds react–in particular the high quality issues. I love quality issues but when I look at the coupons and current yields I still find them over valued.
Looking over losers today I noted that the super high quality Gabelli Dividend and Income Fund 4.25% Perpetual (GDV-K) fell by around 3% today to close at $22.70–unfortunately that brings the current yield to just 4.71% which is still not attractive in a rising interest rate environment.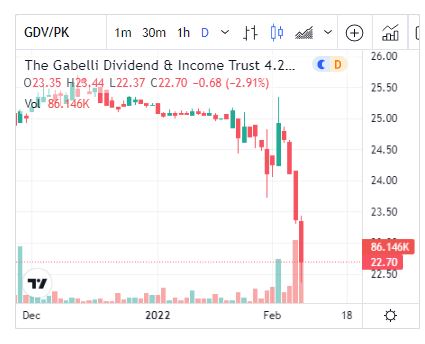 For now I continue to wait for better pricing in 'perpetuals' while holdoing a potful of shorter dated baby bonds and term preferreds while holding plenty of 'dry powder'.