It has been very quiet in the income new issuance marketplace–seems like everyone is still on summer vacation-let's get some new issues going this week. We are still awaiting new issues from Eagle Point Income (EIC) and Priority Income Fund (not publicly traded), both of which have registered new issues, but have not yet announced pricing.
Last week the S&P500 fell a bit–a somewhat unusual event in the last year. Equities were off by almost 2%. Of course this leaves us just about 2.2% from a 52 week high so this little drop is meaningless. The 'talking heads' all are talking correction—please–find something else to talk about 2.2% is nothing.
The 10 year treasury was up just less than 2 basis points on the week–basically no movement. This in spite of the producer prices rising at the hottest rate in a very long time (actually since 11/2010 which is when the 1st 12 month data was published)–up 8.3% for the last 12 months. If you wish to read the 177 page report on PPI it is here. When the data was released on Friday interest rates simply yawned.
The Federal reserve balance sheet moved up a minor $7 billion last week with assets now tallying $8.36 trillion.
As has been the case for some weeks pricing in the $25/share preferred and baby bond was pretty tame. The average share was down 2 cents. Investment grade issues were down a nickel, with bank preferreds off 9 cents, closed end fund preferreds off 1 cent, mREIT preferreds off 3 cents. The current yield of all issues is 6.02%–which is essentially where it has been for a month.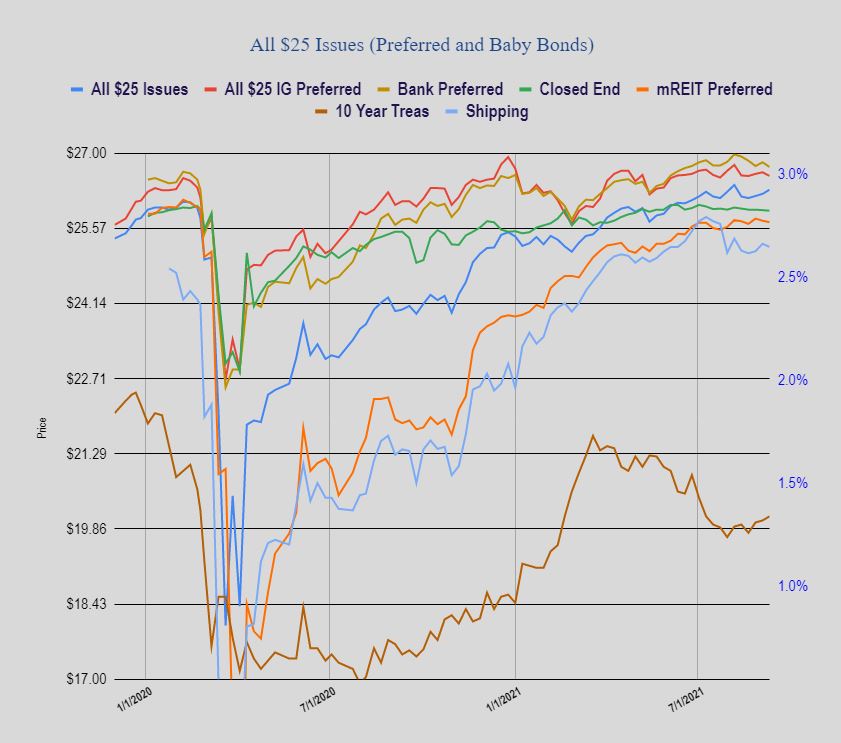 Net lease REIT Agree Realty (ADC) sold a new perpetual preferred stock issue last week with a 4.25%. You might say 'who the hell would buy that low coupon?" Well apparently folks were anxious for the issue because the issue trade up to $25.40–it is now trading under OTC grey market ticker ADCDV.