When money is sloshing around the globe you sure can't expect stock markets to retreat by any significant amount, but markets are seemingly struggling a bit to gain major traction to move ever higher. The Standard and Poor's 500 moved up by just 18 points last week—about .4%. In the 'olden days' any investor would be most happy moving up by .4% in a week–I know I sure would–but in the world we live in it seems like kind of a 'yawner'.
Interest rates moved lower on the week (as measured by the 10 year treasury)–a full 10 basis points. Never mind that the CPI moved up .6% (versus a .5% forecast)–no one really cares at this moment–everyone (almost) has bought into the "transitory" inflation storyline. Anecdotally it seems like a serious situation–inflation. Wage inflation is under severe pressure. In Minnesota virtually every restaurant one goes to they have signs apologizing for slow service, because they are short of help. 1 restaurant we tried to go to in Duluth was simply closed with a sign–no help available. We'll see what happens as job openings were listed at 9.3 million available in April versus 8.3 million in March.
The Federal Reserve balance sheet moved higher by a paltry $17 billion last week–but each week that it moves higher it is a new record high—and I can confidently predict it will move to new records every month for the next couple of years. Oh well–does it even matter–we know where it is going–higher and higher.
As long as we are mentioning the Federal Reserve I will note that the overnight (3 day on the weekend) reverse repo operation of the Fed hit $547 billion on Friday. Wow!! So banks were looking to off load over 1/2 trillion in cash – talk about money sloshing around with no where to go.
Last week, as you would expect the average $25/share preferred and baby bonds moved higher. Like common stocks the move higher was a bit labored as the average issue was up 6 cents. Investment grade issues moved up 5 cents, mREIT issues up 13 cents.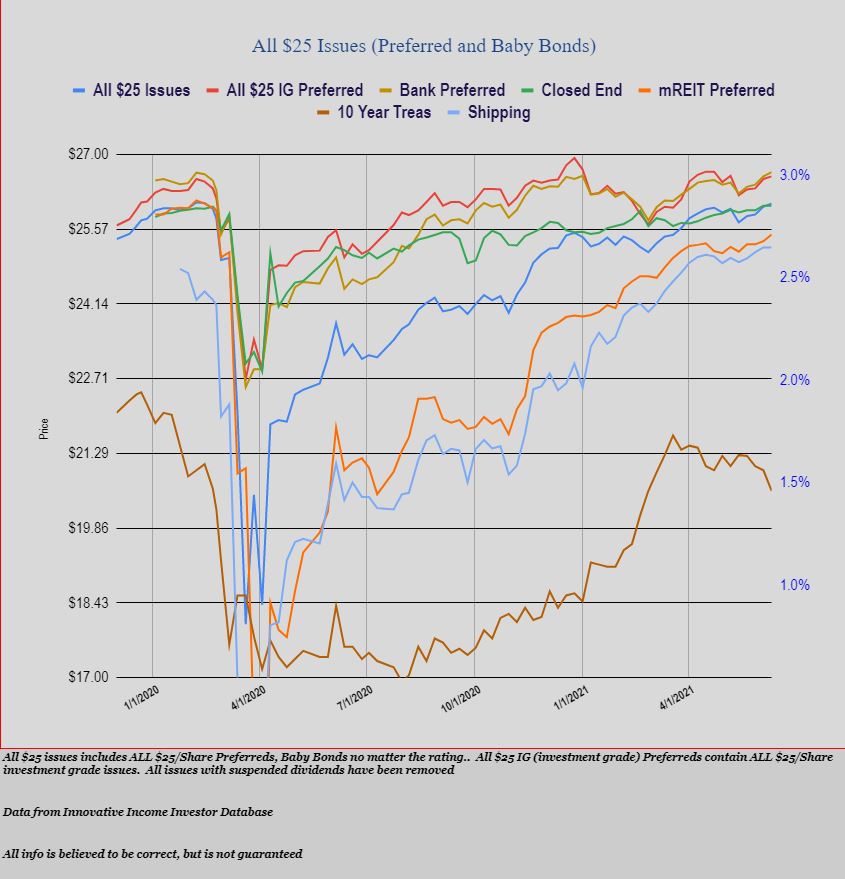 Last week we had 6 new issues priced. I keep a log of new issues here.
REIT TPG RE Finance Trust (TRTX) priced a new issue of 6.25% perpetual preferred which is now trading on the OTC grey market under ticker TRTXP. This issue closed Friday at $25.15.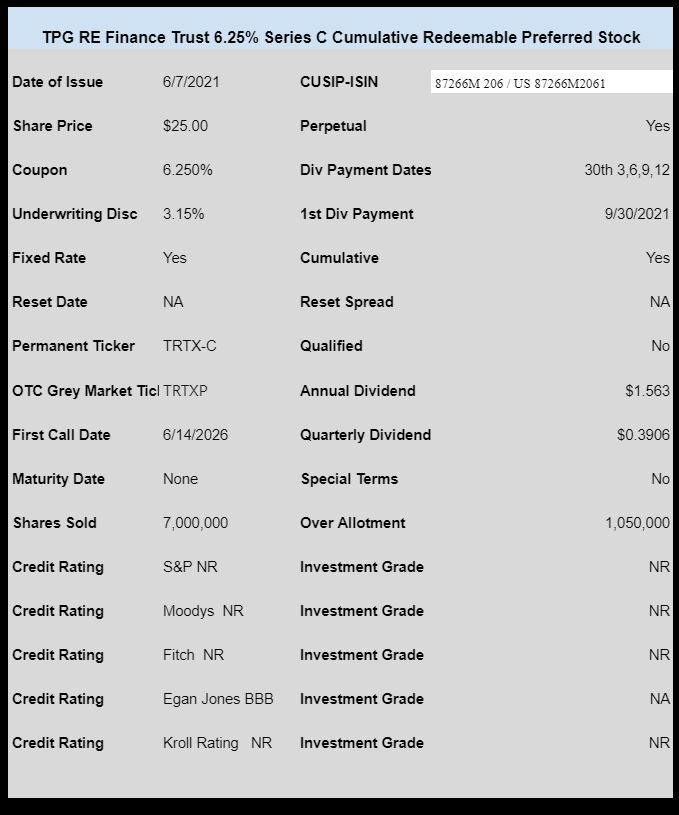 Self Storage giant Public Storage (PSA) sold a new issue of preferred stock with a coupon of 4%–the issue is strongly investment grade. The issue is trading under OTC grey market ticker PSALL and closed on Friday at $25.20.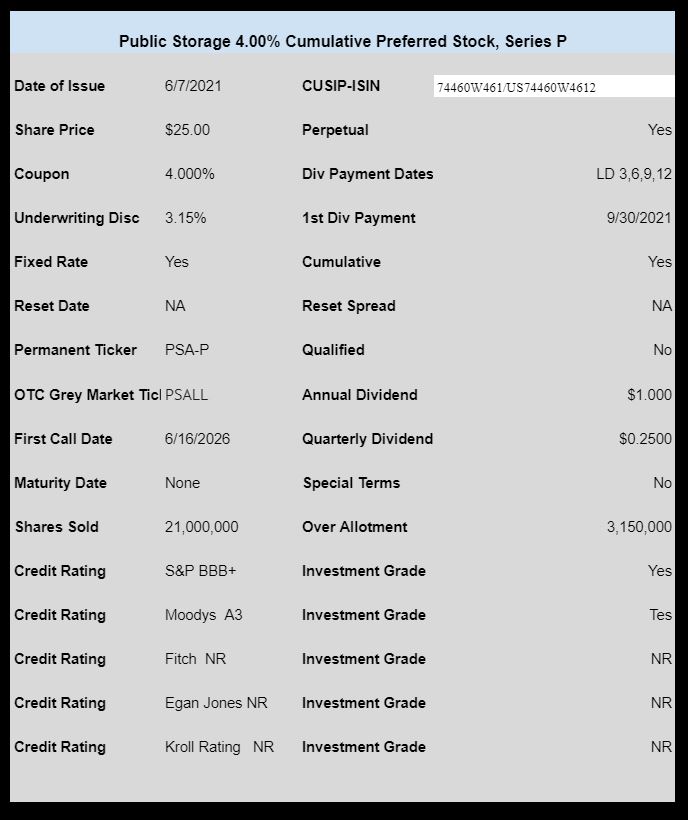 Bank of Hawaii (BOH) sold a new issue of non-cumulative preferred stock with a coupon of 4.375%. The issue is investment grade. Trading under the OTC grey market ticker BHWIL the issue closed Friday at a very strong $25.73.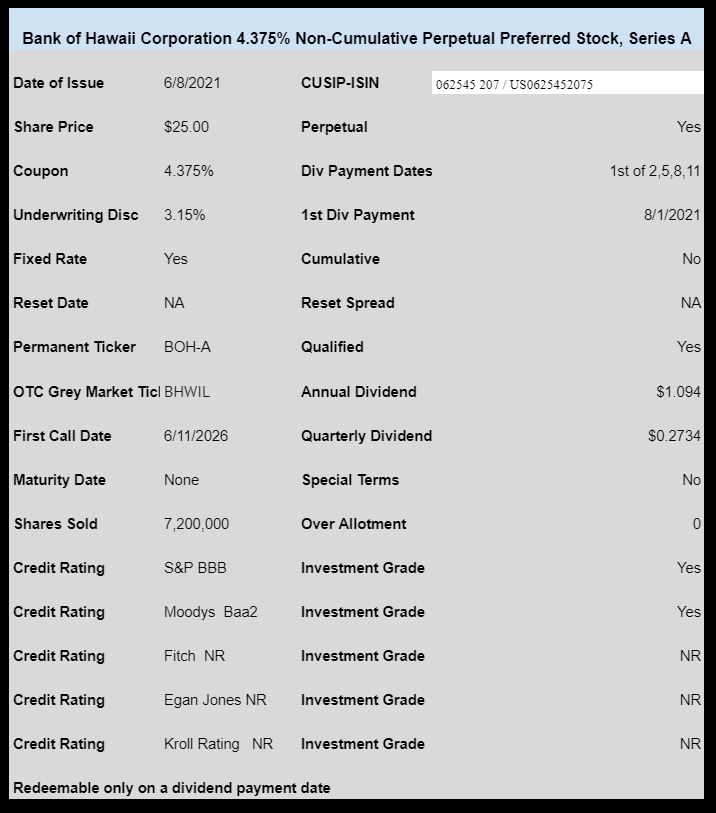 Specialty lender Atlanticus Holdings (ATLC) priced a high yield perpetual preferred with a coupon of 7.625%. No OTC grey market ticker has yet been assigned and there is a possibility that the issue may not trade on the OTC grey market. I am not aware of any trading in this issue yet.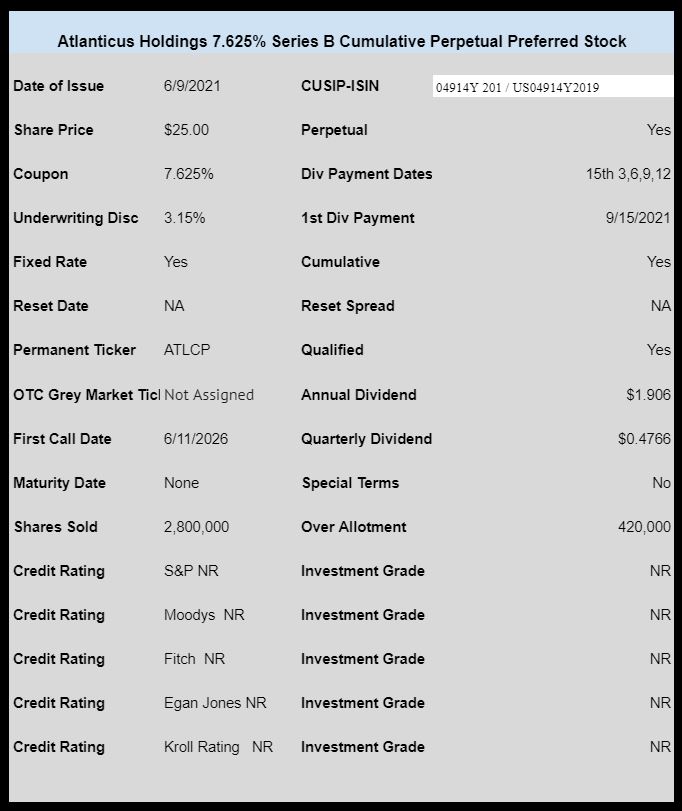 Globe Life (GL) sold a new issue of debentures with a coupon of 4.25%. Being debt there is no OTC grey market trading. If an investor would like shares of this issue prior to exchange trading they will have to call their broker with the CUSIP shown below.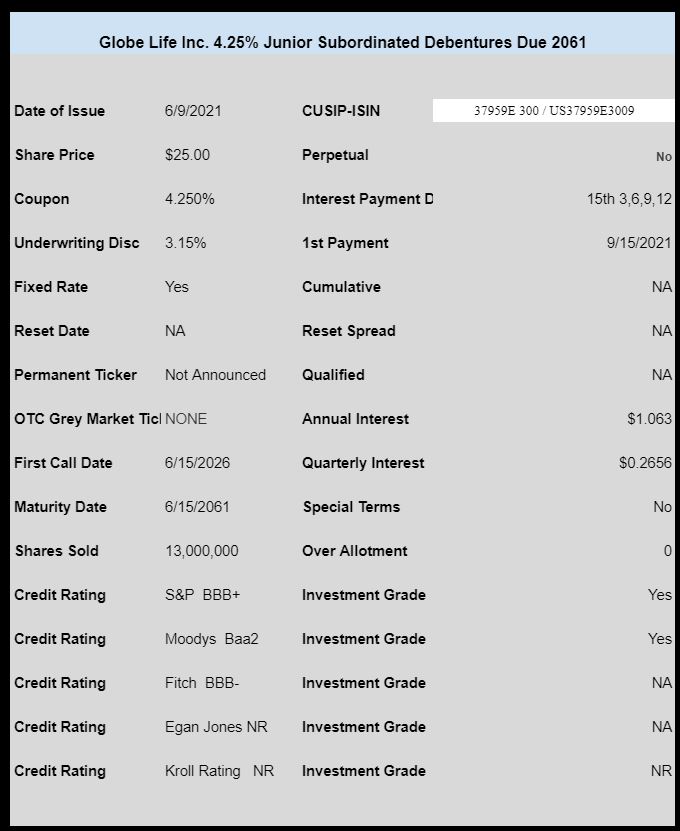 Lastly collateralized loan obligation investor Eagle Point Credit Company (ECC) sold a new issue of 6.50% term preferred stock. This is a monthly payor and will be popular with investors. The OTC grey market ticker is ECCPP.