FLASH–large mall owner CBL Properties (CBL) has finally officially filed for Chapter 11–they have 2 preferred issues outstanding, both selling around 65 cents/share–they will now be worthless.
Also Pennsylvania Real Estate Investment (PEI) has filed a prepackaged Chapter 11, but the common and preferred will continue to trade. Dividends were already suspended and we will see where shares go from here.
It was a pretty rough week last week in common stocks as the S&P500 traded down as low as 3224 after opening the week at 3441, which was the high for the week. The index ended at 3270 on Friday–a loss of 5.6% for the week.
In spite of the tumble in equities the 10 year treasury closed the week at .86% which was 2 basis points higher than the week before. The bond had traded as low as .75%. With equity futures up 400 Dow points this morning are we going to see rates pushed above .90%?
The Fed Reserve balance sheet fell last week by $31 billion last week which is consistence with the sawtooth upward pattern–no reason for this to change.
The average $25 preferred and baby bonds fell last week by 32 cent last week. Investment grade fell by 31 cents, banks by 25 cents, CEF preferreds by 20 cents and mREIT preferreds by 29 cents.
Over the last 10-12 weeks movement in preferreds and baby bonds are consistent with interest rates creeping higher while preferred and baby bond prices are flat to down.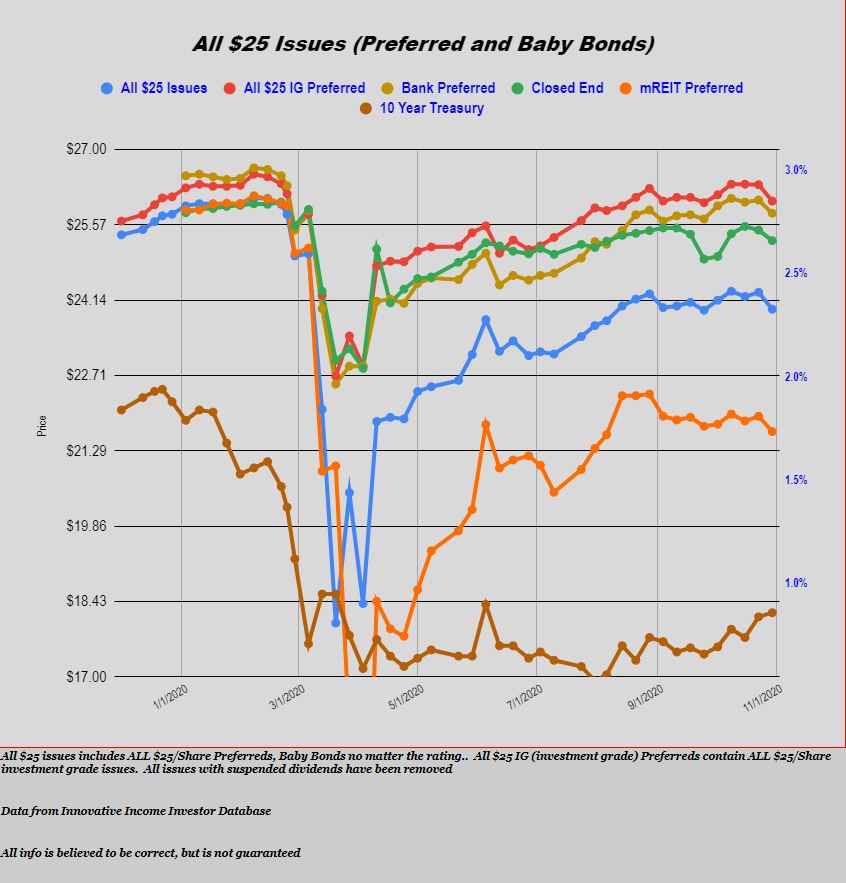 With the volatile nature of the equity markets the new income issuance arena was slow last week with just 1 $25/share issue coming to market.
Bank of America (BAC) sold a new non cumulative preferred with a coupon of 4.375%. The issue is trading now on the OTC grey market under temporary ticker BACPL. Shares closed at $25 on Friday.