Well after going with the 'transitory' story line on inflation markets have decided this week to reject that story line. Of course, whether it is transitory or not won't be known for months.
With the hot consumer price index numbers this morning investors decided to 'run for the hills' and the mayonnaise jar (to put their money in) in the backyard. Whether it be common stocks, preferreds, baby bonds or government bonds they are being sold nilly willy.
Take a deep breath–walk away from the computer (or the CNBC talking heads) and take the day off. Of course review your portfolio and see if anything has really changed in the investments you hold before taking the day off.
I have sold nothing in the last day or two. I have started buying today on 1 issue I like–the Armour Residential 7% monthly paying preferred (ARR-C). I had owned a bunch, but let it go when it traded in the $25.40 area. Today I bought at $25.10 (too early) and at $24.97–now I wait to see if it goes lower.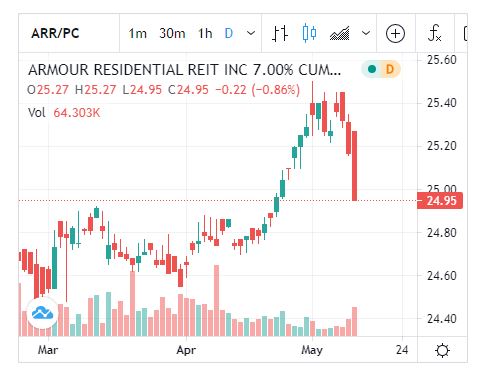 While I haven't bought yet I also like one of my watchlist issues–the Vornado 5.70% perpetual preferred (VNO-K) trading at $25.25–down from a recent $26 (a crazy value). Issue is currently redeemable and anchored to $25–no call risk (there is a risk of a call–but no monetary damage would occur at this price) as it goes ex in about a month.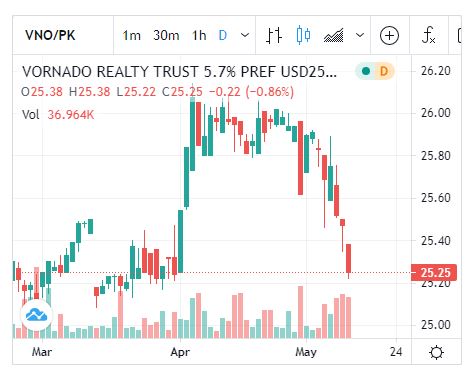 Like yesterday we are seeing quite a bunch of issues down about 1%. Personally I have taken some modest 'hits' the last few days, but not substantial–but I hate any loss so I growl. With super gains through the end of April I guess a month of given back is bound to happen.