I study, study, study and find no clear investment direction to take other than the one I have chosen.  Lots of CDs and treasury notes with maturity dates ranging from 3 months all the way out to 5 years (minimal at 5 years maturity).  Then  some preferred shares in the mix to help to goose the portfolio current yield.  There are really only so many 'tricks' one can play to try to maximize yield (within one's risk tolerance). Up until a year ago one of my younger brothers and I would speak fairly frequently and we would always express the desire to 'just earn a safe 5%'–well we are there, albeit with inflation. I see lots of what I consider 'bargains' out there–i.e. the regional and community banks preferreds, but so much danger lurking and I need more time to pass to consider adding much to the current modest positions. I just reviewed current CD and money market rates and find them pretty attractive and continuing to creep higher–very nice.
I do have good until canceled orders in on 6 issues–only to buy if someone wants to give me a 'fire sale' price.
Well earnings continue to roll out and Microsoft and Alphabet  reported and while growth rates are modest earnings are decent and Microsoft is 'flying' this morning–with the banking companies they are setting the tone for equity trading today–and that tone is pretty flat–we'll see if that holds.  Also last night California regional banker Pacwest (PACW) reported earnings and they were pretty dreary.
Yesterday we had new home sales reported at a much higher level than forecast–683,000 versus 634,000 forecast.  Case-Shiller showed that prices of homes continue higher on a year over year basis. Consumer confidence came in weaker than expected.  So the mixed signals continue with economic data.  Today we have durable goods and wholesale and retail inventories being reported in 30 minutes so we will see what kind of numbers we get.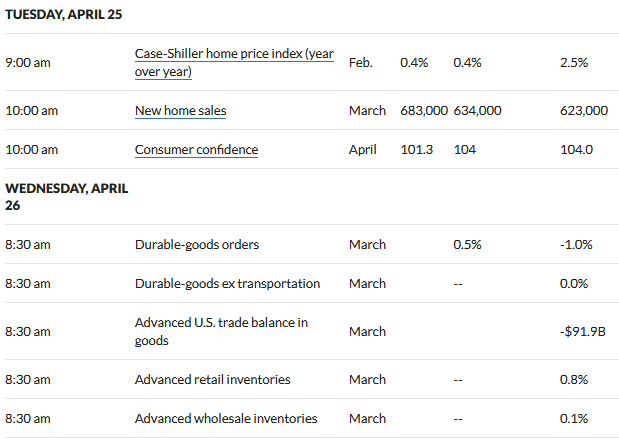 Well let's get this day going!