Gem is a relative description for me – what is the risk/reward? A deep dig to find out the background and the reason for the extremely high current yield of this preferred stock. You all know the security and many of you likely own some shares–but even as conservative as I am I have now taken a 1/2 position–with more potential buys to come.
Of course I am talking about the Golar LNG 8.75% cumulative redeemable preferred stock (GLMPF) which trades on the pink sheets.
Golar LNG Partners was bought by New Fortress Energy (NFE) back in 4/2021 and the preferred shares were announced to be 'delisted'–but subsequentially began trading on the OTC Pink Sheets. As you can see below the shares have essentially collapsed since 2021—now trading in the $11-$11.50 area. Why? There is no logical answer to be trading at this price with a 19% current yield. Now who said that every preferred stock or baby bond trades at a logical price–of course they generally trade where one would expect them to trade–BUT on some occasions they trade at pricing that really don't make sense based on fundamentals and logic.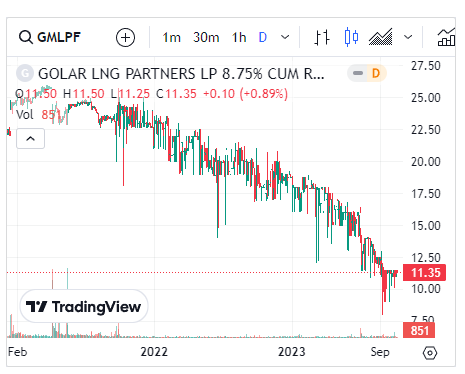 So they trade on the pink sheets and there have been a couple preferreds that have had their dividends suspended after being acquired. Also these acquisitions tend to confuse folks—sometimes it is laziness—don't want to deal with the complexities of the parent company (New Fortress). But NFE is a reporting company and all the details of all parts of their operation are in their financial reports–nothing hidden for those wanting to know the details of their operations.
So let's look a bit closer at New Fortress Energy. NFE is a LNG (liquified natural gas) company which as we all know is in a damned good demand position–and is likely to be in great demand for decades to come. More specifically they are a gas to power company. The initial public offering came in 2019 at a price of $14—they had been controlled by asset manager Fortress Investment. Since that time their common shares have traded as high as $60/share, but more recently fell into the $25 area before bouncing to the current $33/share area–market cap is $7 billion.
When the IPO occurred the company had little revenue–typical for a LNG company–think Cheniere or Tellurian. Revenue