This is the giving season–giving gifts, contributing to charities (even though we no longer can deduct our contributions) and trying to be a decent person (not always with success).
We all know common stocks have been "giving"–almost daily, but I am surprised that the preferred stocks and baby bonds I buy just keep on "giving" as well. Investment grade issues have been contributing greatly to good times, in spite of rising interest rates–at some point this will have to end–but now isn't the time.
Some of us have looked for potential set backs with year end sell-offs or rebalancing and they just haven't happened–so quiet–maybe too quiet
With the sortable spreadsheet I have posted I am able to drill down on what is happening in income markets really easily and below is a chart from December showing what income issues have done. I have removed issues that have suspended dividends.
The red line represents all $25 investment grade preferreds. The blue line represents all $25 issues–preferreds and baby bonds of which there are 655 issues. The green line is the 10 year treasury.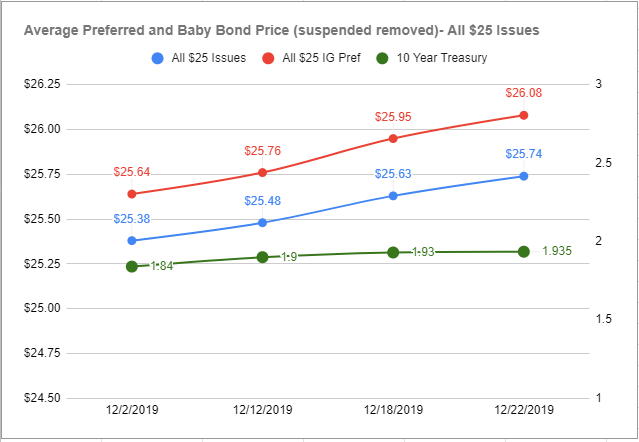 Of course during December we see a lot of ex-dividend dates — and there 100 more in the next week so we really need to see a longer term chart (I will keep tracking these numbers), but certainly for holders during the month of December the good gains continue.
I am anxious for the new year to start and am concerned that the easy gains of 2019 will become much tougher in 2020–we shall see.