Yesterday I had just written about the 10 year treasury yield hitting the 1.18% level when rates began to move off the high, which was up 5 basis points from the previous close. The yield ended the day at about 1.14%.
Today the high was 1.13% with a close at 1.09%.
With solid treasury auctions the last couple of days investors were heartened – for the moment.
This was truly 'the pause that refreshes'–but in my personal opinion it is just a 'pause'. But we all like a pause in higher rates and a bounce in prices–it gives a folks a chance to re-evaluate their holdings.
Below I give a couple of examples of the difference in movements in high quality, low coupon issues and low quality, high coupon issues.
Here you can see how sensitive a high quality–low coupon issue is to interest rate movements. Tumbling hard the last 5 days as rates rose, while bouncing nicely on the respite since yesterday afternoon from higher rates. This one is the Public Storage (PSA) A3 rated 4.625% perpetual preferreds.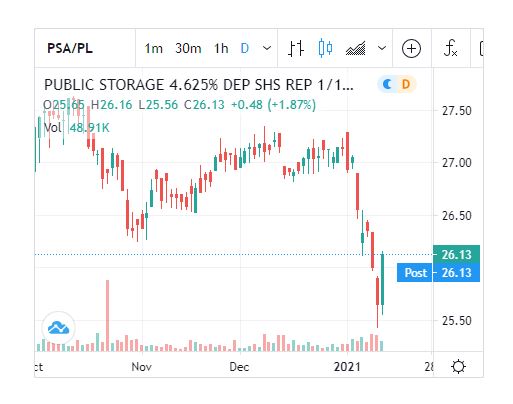 On the other had below you can see what has been happening with a high coupon, junkier issue from Arbor Realty (ABR) 8.25% perpetual preferred. You can see the issue has been moving in a 25 cent range for the last week.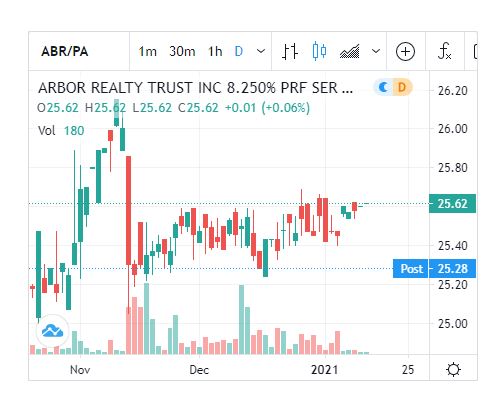 Of course other factors are to blame for movements up and down–potential redemption dates for instance. BUT newer investors need to know that the above charts are typical of price movements when interest rates rise. When rates rise investors demand higher yields–it is that simple. Low coupons are sold–high coupons are held.