Today I bought shares in the RiverNorth Opportunities Fund 6.00% perpetual preferred. I had this as one of my good until cancelled orders and it executed at what I think was a true bargain ($22.50). I already had a position in this security and this was an addition.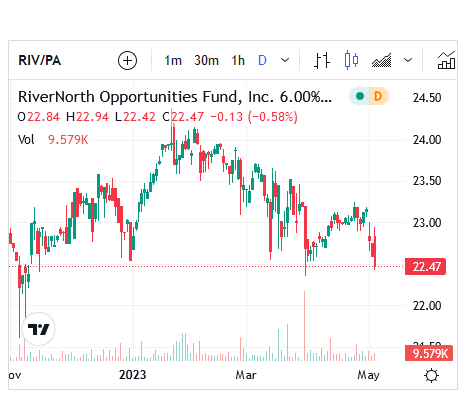 This security is rated A1 by Moodys and has an asset coverage of 379% as of 1/31/2023. The fund had raised funds through a common share rights offering late last year and it bolstered their coverage ratio significantly. For those not familiar with closed end funds 'senior securities' (preferreds and debt) – they must have a minimum coverage of their senior securities of 200%. Truly a safe haven in these times of danger.
I believe that this security is undervalued by $1.50-$2.00 per share. For comparison sake–it has a current yield of 6.68%. The 2 perpetuals outstanding from RiverNorth Double Line Strategic (OPP) have current yields of 5.94% and 6.04% respectively–obviously something is out of whack here.
If this security goes lower I will be buying more (how much and at what buy price is yet to be determined)–maybe a GTC order at $22.00.