Container and storage lessor General Finance (GFN) has finally priced their new issue of baby bonds.
The issue priced at 7.875%. They will be selling 2.4 million baby bonds with another 360,000 available for over allotments.
The issue will be redeemable on 10/31/2025–the short maturity helped the company to garner a slightly lower coupon. Longer dated issues will have to pay a higher coupon.
The issue will first become redeemable on 10/31/2022 at 104.50% of liquidation value until 10/30/2023 and then 102.25% of liquidation value starting on 10/31/2023 until 10/31/2024 after which it is it is redeemable at 100%.
The company will be able to do a 'equity clawback' prior to 10/31/2022 for up to 35% of the bonds at 107.875% of liquidation value. The 'equity clawback' allows the company to sell equity to be used in redemption.
Of course all early redemptions include accrued interest.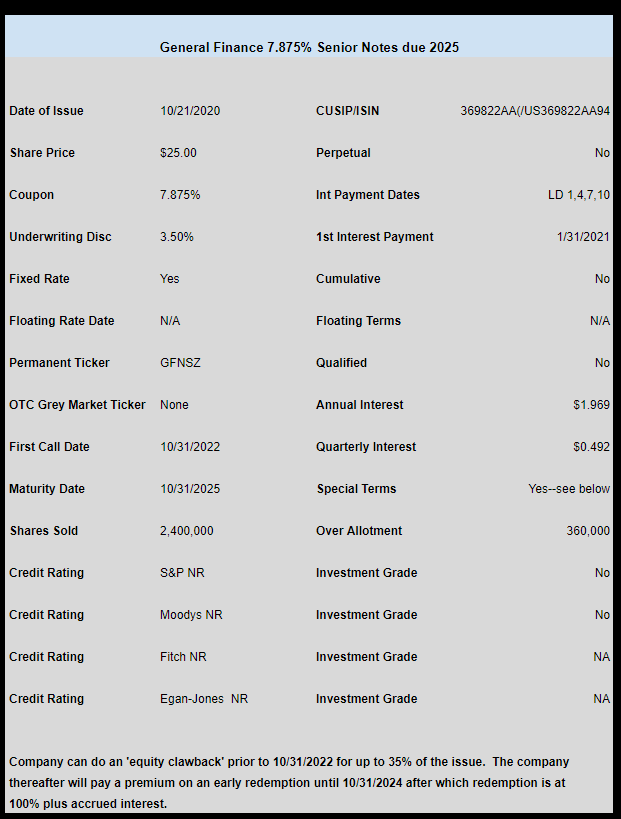 The pricing term sheet can be read here.