It's sickening (at least to me) to watch how we are keeping our 'printing presses' so well oiled up. It is obvious that the Fed Chair believes that keeping the presses running full steam ahead is how to keep the economy afloat–and he may be right.
Modern Monetary Theory (the theory that as long as you have the reserve currency you can print all the money you need) is being embraced more and more each day in the U.S., and why wouldn't it be, it cures all ills–no harm, no foul I guess. If you have needs and wants just print the money–period–easy peasy!!
This morning MMT provided the fire power behind an excellent 30 year treasury auction which brought the buyers in to buy the 10 year treasury. The 10 year is off 5 basis points right now at 1.62% about 15 basis points off the high from a few weeks ago–and this is after 'hot' consumer price index and producer price index numbers.
So I hate current monetary policy–so what!! Just because I hate the policy I am not gathering up my assets to bury in my backyard in a mayonnaise jar–I (and you) have got to keep the money working.
I had posted my watch list about a week or so ago and mentioned this is where I have been hanging out with my 'dry powder'. My dry powder funds have been moving around at a fairly high velocity–buying and selling and knocking down some good profits most of the time.
This week investors are chasing dividends hard–really hard. In fact they 'forced me' to sell numerous issues today–those off my watch list that I have owned for a couple weeks.
The best mover off the watch list was the Compass Diversified CODI-B 7.875% fixed-to-floater which I bought on 3/29/2021.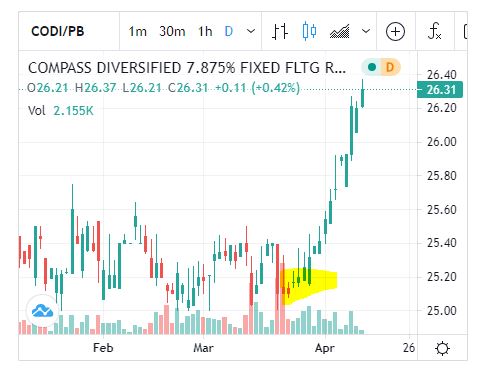 I bought this for $25.34 looking to hold through the ex-dividend date which is on 4/14/2021 (tomorrow). I sold this issue for just short of a 4% gain in 2 weeks. This value is pure silliness–absolutely too much money chasing. Now I will watch it on ex dividend date and see if I can see another 1% in it–the exchange will mark it down 49 cents tonight for ex-dividend, but will it then continue to fall further? Don't know but I'll watch.
The Urstadt Biddle (UBP) preferreds goes ex dividend on Thursday. I had bought a good chunk of both issues (which are here) a few weeks ago. I sold both today choosing not to hold through the ex date as my gains were extremely good.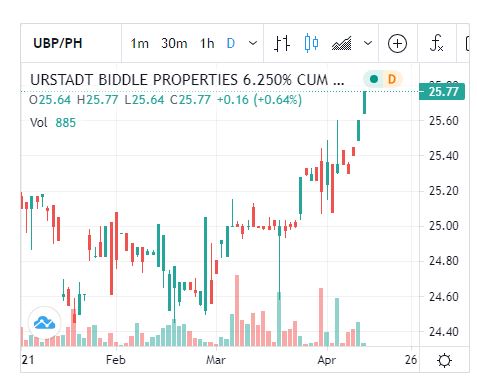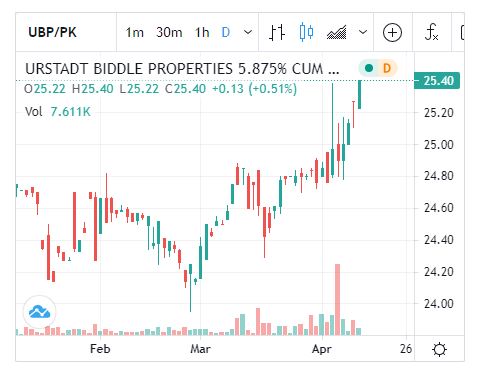 Unfortunately my watch list is being depleted by the US Cellular (USM) and Telephone and Data Systems (TDS) calls and I will need to find more reliable issues to put on the list.
So even though you hate todays values there are spots to knock down a few extra 'steak dinners' and for someone like me who owns no common stocks, holding only preferreds and baby bonds, knocking down a few extra thousand now and then in gains is important.