Fossil Group (FOSL) has priced the previously announced baby bond issue.
The issue prices at 7.00% for 5.6 million shares (bonds) with another 400,000 shares available for overallotments.
This issue is rated 'B' by Standard and Poors.
The bonds may be redeemed early beginning on 11/30/2023 at $25.50 until 11/29/2024, then on 11/30/2024 until 11/29/2025 at $25.25 then on 11/30/2025 until maturity on 11/30/2026.
The bonds may be redeemed prior to 11/30/2023 with payment of $25/share plus the greater of 1% or an amount determined based upon a treasury discount rate plus 50 basis points (see the prospectus for full details). Of course additionally all accrued but unpaid interest.
There will be no OTC trading on this issue since it is debt, although those desiring to acquire shares prior to exchange trading may call their brokers bond desk and inquire as to availability.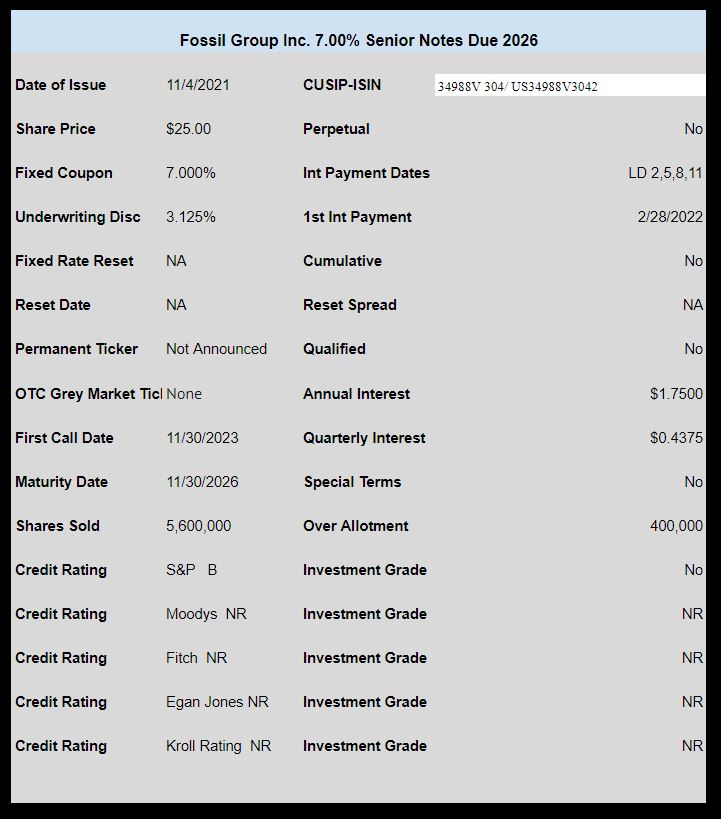 The pricing term sheet can be found here.